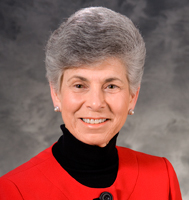 I'm proud to welcome you to the UW Department of Pediatrics' 2018 Annual Report, an overview of our accomplishments in education, research, and patient care.
SMPH Curriculum Transition, 100 Percent Board Pass Rate, Residency Faculty Elected to Leadership Positions
We continued to play a major role in the successful rollout of the University of Wisconsin School of Medicine and Public Health's new ForWard curriculum. Our faculty accommodated student enrollment in core clinical rotations and clinical electives during the transition semester of overlapping curricula; championed new electives; and served as the integrated block leader of the phase 2 required block "Care Across the Life Cycle," which launched in January 2018.
Our resident class of 2018 had a 100 percent pass rate on the American Board of Pediatrics general pediatrics certifying exam, bringing our department's three-year pass rate average to 98 percent.
In addition, Residency Program Director and Vice Chair for Education John Frohna, MD, MPH, was elected as a new member of the Association of Pediatric Program Directors (APPD) board of directors, and Associate Residency Program Director Daniel Sklansky, MD, was elected as the associate program director representative for the APPD Midwest region.
---
Ranked 12th Nationwide in NIH Funding
We are proud to be ranked #12 of 88 medical school pediatric departments nationwide for National Institutes of Health (NIH) awards, according to data compiled and released by the Blue Ridge Institute for Medical Research (BRIMR).
In FY18, our department's extramural grant funding increased to $34.1 million, a 42 percent increase from FY17. Our faculty submitted 143 grant proposals; 50 (35 percent) were funded.
Throughout 2018, our faculty were PIs or co-Is on 247 grants, and our department's centralized clinical research coordinators managed 60 studies, a 9 percent increase from 2017.
Finally, faculty, residents and fellows presented 90 abstracts at the department's 2018 Spring Research Day. Of these, 55 (61%) were accepted at the Pediatric Academic Society (PAS) meeting: 44 as poster presentations, 10 as platform presentations and one as a workshop.
---
Clinical Programs Expand, Ranked Among Top 50 Children's Hospitals
Several American Family Children's Hospital clinical programs led by Department of Pediatrics faculty and their colleagues continued to grow in 2018.
Our Pediatric Preventive Cardiology Program, offered in five locations in the region, had a 12 percent increase in patient visits across all sites, and a 30 percent and 31 percent increase in visits in Green Bay and Wausau, respectively.
In addition, we increased the number of neonatal air transports from four in 2017 to 20 in 2018. Our Pediatric Metabolic Syndrome Clinic had 35 distinct patients in 2018, up from six patients when it was first created in 2016. And our multidisciplinary Pediatric Aerodigestive Clinic has had 64 patients from the region—and from as far away as Georgia—since its creation in July 2017.
Efforts by our Pediatric Antimicrobial Stewardship Team helped reduce the use of broad-spectrum antibiotics at American Family Children's Hospital by an average of 2.2% per month and overall antimicrobial agents by 1.3% per month.
Finally, in 2018, U.S. News and World Report ranked American Family Children's Hospital among the top 50 children's hospitals in cancer, cardiology and heart surgery, gastroenterology and GI surgery, nephrology, pulmonology and urology.
---
Thanks to Our Faculty and Staff
As always, I thank our outstanding faculty and staff for their accomplishments and contributions in 2018. Your extraordinary teaching, research and patient care create an ideal environment for children, families and learners.
Ellen R. Wald, MD
Professor and Chair
Alfred Dorrance Daniels Professor on Diseases of Children
Pediatrics in 2018: A Snapshot
176 faculty & 165 staff
44 residents & 30 fellows
$34.1M in extramural grant funding
PIs and/or co-Is on 247 active grants; 60 clinical studies managed
336 scholarly publications
128,050 outpatient visits
9,623 hospital admissions
13,169 emergency department visits
$111M in total revenue