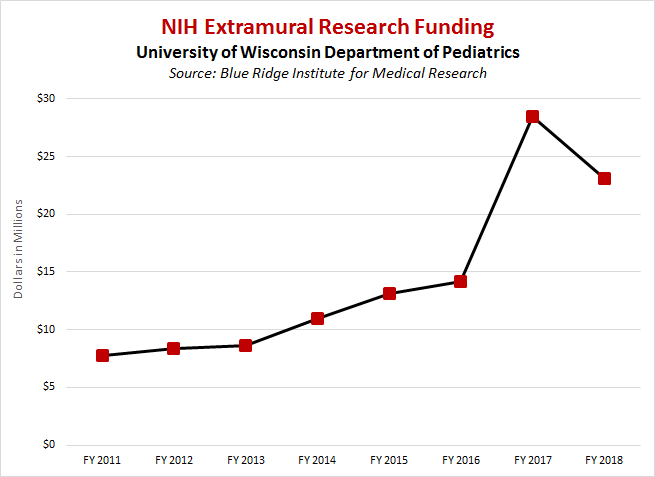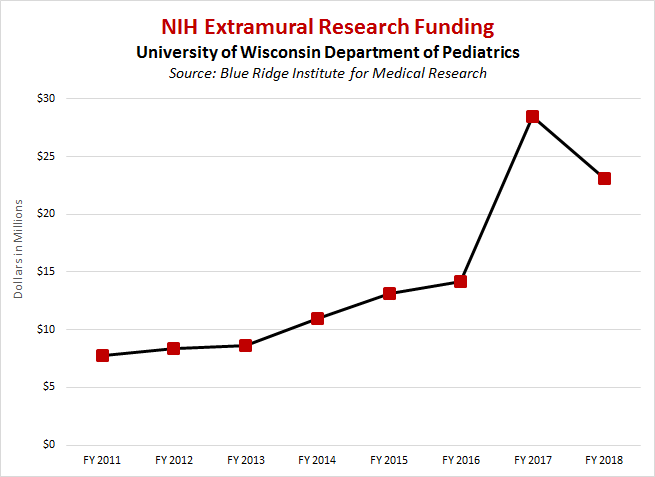 The University of Wisconsin Department of Pediatrics was ranked #12 of 88 medical school pediatric departments nationwide for National Institutes of Health (NIH) awards, according to data compiled and released by the Blue Ridge Institute for Medical Research (BRIMR).
The ranking reflects $23.1M in awards received during the NIH's 2018 fiscal year, which is October 1, 2017, through September 30, 2018. It includes the 17 NIH awards for which department faculty are principal investigators.
This is the fourth straight year that the department has ranked in the top 20 for NIH funds awarded. The BRIMR ranked the department 6th in NIH funding in FY17; 20th in FY16; and 18th in FY15.
The ranking demonstrates the department's continued commitment to research excellence and the outstanding efforts of its investigators, despite a challenging and competitive funding climate.
Notable NIH awards in 2018 included:
A five-year, $68,808,597 renewal of the Children's Respiratory and Environmental Workgroup (CREW), a multicenter project (led at UW-Madison by James Gern, MD) to better understand environmental causes of allergic diseases and asthma.
A five-year, $6.8 million renewal of Dr. Gern's grant on viral and environmental determinants of rhinovirus illness severity among newborns from farm and non-farm families to better define early life microbial exposures and immune development.
A new five-year, $3.76 million grant led by Anna Huttenlocher, MD, and David Beebe, PhD (College of Engineering) to apply bioengineering techniques and organotypic models using induced pluripotent stem cells to better understand chronic inflammation caused by improper immune cell clearance.
A new five-year, $1.75 million grant led by Christian Capitini, MD, to use murine allogeneic hematopoietic stem cell transplant models to develop evidence for a clinically applicable combined strategy to enhance the graft-versus-tumor effect of immunologically activated, ex-vivo activated natural killer cells, and to track their localization using a novel imaging platform.
A new five-year, $1,004,400 K08 career development award for Muse Davis, MD, PhD, to improve understanding of disseminated fungal infections by using a zebrafish larva model to directly monitor microbial pathogenesis in vivo, namely Cryptococcus.
A new four-year, $1.85 million grant led by Bruce Klein, MD, to increase knowledge about how the lung epithelial cells that line the respiratory mucosa sense and manage inhaled fungal spores, and identify new ways to therapeutically target early events that can optimize mucosal immunity to fungi and lung inflammation.