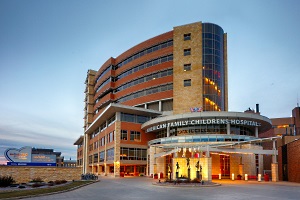 Department of Pediatrics faculty care for patients at:
American Family Children's Hospital, a 111-bed comprehensive pediatric medical and surgical center in Madison;
UnityPoint Health–Meriter, a 448-bed community hospital in Madison;
SSM Health St. Mary's Hospital, a 440-bed tertiary referral hospital in Madison; and
Eleven clinic locations in Madison and surrounding communities.
Our faculty also provide regional specialty outreach services (onsite and remote) in 31 cities in Wisconsin and Illinois.
Highlights
The American Family Children's Hospital Universal Care Unit re-opened on the seventh floor of the hospital and, in October 2018, expanded from 12 to 14 beds. This unit is the Pediatric Epilepsy Monitoring Unit, serving children admitted for epilepsy workup for medical and potential surgical management.
The unit also serves children admitted under the care of the pediatric pulmonary team, pediatric endocrine diabetes team, pediatric nephrology team—as well as children recovering from spinal fusion surgery who are cared for by the pediatric orthopedics team. Many patients on this unit have needs that are higher than those of a general care unit, but not as acute as those in the Pediatric Intensive Care Unit (PICU).
The American Family Children's Hospital Pediatric Preventive Cardiology Program, led by Amy Peterson, MD, continued to grow in 2018. Faculty now see patients in five regional locations (Green Bay, WI; Milwaukee, WI; Oshkosh, WI; Rockford, IL; and Wausau, WI) in addition to American Family Children's Hospital. From 2017 to 2018, total patient visits across all sites increased 12 percent; visits in Green Bay and Wausau increased 30 percent and 31 percent, respectively.
Dr. Peterson is also leading American Family Children's Hospital's participation as an ancillary site in a new National Institutes of Health/National Heart, Lung, and Blood Institute (NIH-NHLBI) Pediatric Heart Network clinical trial. The trial, "Dyslipidemia of Obesity Intervention in Teens (DO IT)," is a two-year randomized placebo-controlled trial of pitavastatin to treat combined dyslipidemia in obese adolescents 10 to 17 years of age.
UW Health primary care clinics achieved the following impressive rankings for immunizations, as measured by the Wisconsin Collaborative for Healthcare Quality:

#1 in Childhood Immunizations
#2 in HPV Vaccinations
#4 in Adolescent Immunizations
In addition, the UW Health Stoughton Clinic was ranked #1 overall for childhood immunizations and received an award for this achievement from the Immunization Coalition.
The Pediatric Antimicrobial Stewardship Team, which is led by Sheryl Henderson, MD, PhD, evaluates antimicrobial use at American Family Children's Hospital and educates providers on ways to reduce inappropriate antibiotics, reduce the risk of adverse events and selection for antibiotic-resistant organisms and decrease costs. As a result of their efforts, in 2018, broad-spectrum antibiotic usage (days of therapy/1000 patient-days) decreased by an average of 2.2% per month and overall antimicrobial use decreased by 1.3% per month.
Creation of a new, around-the-clock neonatology provider call schedule has enabled American Family Children's Hospital to increase its number of neonatal air transports from four in 2017 to 20 in 2018. With this expanded access, we can care for more critically ill newborns throughout a larger geographic region in our Level IV neonatal intensive care unit (NICU).
The American Family Children's Hospital Pediatric Metabolic Syndrome Clinic, led by Amy Peterson, MD; Allison Redpath Mahon, MD; and Jennifer Rehm, MD; had 35 distinct patients in 2018, up from six patients when it was first created in 2016—a nearly six-fold increase in less than three years. Approximately one-third of new and return patients are also on the clinic's waiting list, another clear demonstration of growing demand for services in this half-day per month clinic.
Since its creation in July 2017, the Pediatric Aerodigestive Clinic at American Family Children's Hospital has had 64 patients from the region and from as far away as Georgia. Led by Scott McMurray, MD, Vivek Balasubramaniam, MD, and Dorota Walkiewicz, MD, the multidisciplinary clinic treats children who have complex airway, pulmonary, digestive tract, sleep, feeding and voice disorders.
In 2018, S. News and World Report ranked American Family Children's Hospital among the top 50 children's hospitals in six specialties: cancer, cardiology and heart surgery, gastroenterology and GI surgery, nephrology, pulmonology and urology.