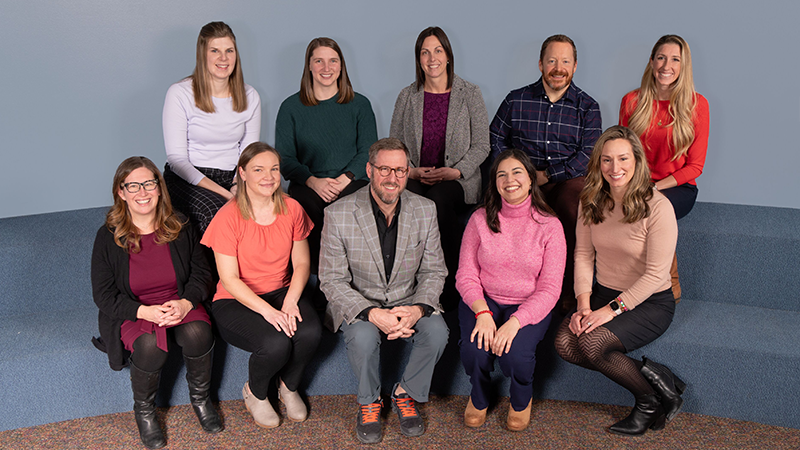 Last month, UW Health announced a new pediatric heart transplant program at American Family Children's Hospital. The new program makes the UW Health Transplant Center one of only six centers in the nation — and the only one in the Midwest — transplanting five major organs in adults and kids.
UW Health shared news about the launch in an online news post on June 8. In addition, it announced the opening nationally in a paid post in The New York Times highlighting the innovative care and research that has been characteristic of the UW Health Transplant Center for nearly 60 years.
The congenital heart program at UW Health Kids is recognized nationally for providing outstanding care for even the most complex forms of congenital heart disease. Sonya Kirmani, MD, assistant professor, Division of Cardiology, serves as medical director of the new pediatric heart transplant program. She said offering transplantation locally expands pediatric cardiology services and directly benefits patients and families, allowing them to be able to remain in Madison for the full spectrum of potential care needs. Previously, about six to eight children every year would need to travel out of the region for a heart transplant.
"It's a big burden on families," Kirmani said. "A heart transplant means life-long care. Families have had to relocate and find new jobs to accommodate the transplant. Now we can provide for all our patients' needs more locally."
Kirmani, with a background in pediatric cardiomyopathy, heart transplant, and ventricular assist devices, was hired in September 2021 to develop the infrastructure needed for the pediatric heart transplant program to exist. "There is quite a bit of infrastructure that needs to be put in place for a transplantation program to gain approval from the United Network for Organ Sharing (UNOS)," Kirmani explained. "The process is complex and the evaluation and approval rest upon the demonstration that this program is capable of doing what it says it can do." The pediatric heart transplant program at American Family Children's Hospital received approval from UNOS in March 2023.
One of the benefits of being part of a large program like the UW Health Transplant Center is access to its existing structure and health care teams. The pediatric heart transplant program can draw on the expertise of social workers, psychologists, nutritionists, and transplant pharmacists, not to mention more unique aspects of the transplantation field like patient and family support.
Kirmani is part of the multidisciplinary leadership team that helped design and launch the program. Along with Kirmani as medical director, Charles (Charlie) Bergstrom, MD, assistant professor, Division of Critical Care, directs the cardiac program in the PICU at American Family Children's Hospital, and Josh Hermsen, MD, associate professor in the Department of Surgery, is the pediatric heart transplant program's surgical director.
Other health professionals within the Department of Pediatrics are closely involved in the pediatric heart transplant program. Bridget Lucas, NP, Division of Cardiology, is part of the pediatric transplant team as an in-patient hospitalist. Her role is to provide vital pre- and post-transplant care of pediatric patients. "This involves coordinating various aspects, such as educating patients and families about the transplantation process, managing medications, monitoring their overall health and cardiac function, and ensuring they meet the necessary criteria for transplantation," Lucas explained. "After the transplantation, I will be monitoring patients closely for signs of rejection or complication, adjusting medications, and providing education to patients and families about post-transplant care."
Krisjon Rae Olson, PhD, assistant professor, Division of Cardiology, conducts research aimed at reducing disparities in survival rates of people with congenital heart disease. She sees the pediatric heart transplant program as an enormous advancement in the health institution's commitment to providing the best care for children. "Pediatric cardiac medicine offers a unique opportunity for translational and clinical research, allowing us to make tangible improvements in the lives of our young patients," Olson said. "Centering children and parents as active participants in our community-based research is one way that I help our team provide world-class care closer to home."
Kirmani's role as medical director changed the day the program "went live." All of her work of the previous 18 months putting people and procedures in place now accomplished, she and her team await the first patient and the first donor. Although she will not perform the surgery, Kirmani will be in the operating room during a transplant. "I will be checking on anesthesia and immunosuppression early on," she explained. "I'm there to see when the newly transplanted heart starts beating — that's my favorite part."
"My role starts before the donor acceptance, and my job really starts post-transplant in the ICU," she continued. "We as transplant physicians take charge of the immunosuppression and then assist the ICU and surgical teams with the graft management."
Transplant physicians pay extremely close attention to every aspect of a transplant patient during the first week post-transplant. "We are vigilant about the conditions of the heart as it acclimates to its new place," Kirmani said. "Immunosuppression is a different skill, but it is as important as the transplant surgery for the success of the process."
Kirmani summed up the whirlwind of accomplishments that brought her and the dedicated cadre of pediatric cardiology professionals to this point: "The five-transplant capability of the pediatric transplant center is pretty astounding," she said. "Successful transplant of the four other organs has been going on while we have been preparing for the heart transplant program to begin. I see us in the pediatric heart transplant program as completing this very big picture."
Meet the team
The pediatric heart failure and transplant team includes pediatric heart failure/transplant cardiologists who specialize in pediatric heart transplant medicine along with surgeons, nurse coordinators, nurse practitioners, and other health care specialists who provide support for the physical and emotional needs of heart failure and transplant patients and families.
Pediatric Cardiologists
Sonya Kirmani, MD, Medical Director
Heather Bartlett, MD
ICU Physician
Charles Bergstrom, MD, Director, Pediatric Cardiac Critical Care; Medical Director, Pediatric ECMO; Co-Director, Pediatric Mechanical Circulatory Support
Surgeons
Josh Hermsen, MD, Surgical Director
Petros Anagnostopoulos, MD, MBA, FACS
Research
Krisjon Olson, PhD
Nurse Practitioners
Bridget Lucas, NP
Kathleen Gorenc, NP
Nurse Coordinator
Katie Fleiner, RN
Social Worker
Megan Fecht, LCSW, CCTSW
Registered Dietitian Nutritionist
Sarah Mandli, MS, RDN, LDN, CNSC
Program Manager
Heather Jaeger, RN, BSN, CCTC