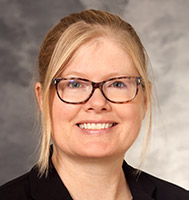 For the past twelve summers, Megan Moreno, MD, MSEd, MPH, professor, vice chair of academic affairs, and division chief, General Pediatrics and Adolescent Medicine, has mentored medical students through the Shapiro Research Program. "Students bring energy, experience, and enthusiasm to their summer work," explained Moreno. "I enjoy the opportunity to bring great team members into SMAHRT and watch students shape their ideas into an independent research project."
This summer SMPH medical students Hannah Fleischmann and Claudia Vilela will join Moreno's Social Media and Adolescent Health Research Team (SMAHRT).
Fleischmann inspires to integrate public health and research into her medical career, and she is intrigued by the topic of social media and adolescent health. Her project, "Qualitative adolescent provider assessment of current screening protocols for problematic internet use in adolescent patients," will study the current practices of pediatricians, physicians, school-based professionals, and public health professionals who screen for technology use and bullying among youth and adolescents.
"I really wanted to have a meaningful experience during my summer break and the Shapiro research program offers that opportunity," explained Fleischmann. "I am interested in learning more about the field of adolescent medicine, which is what initially lead me to apply to work with Dr. Moreno and SMAHRT."
Vilela has undergraduate experience in clinical and bench research and wants to develop an understanding of how social media use affects adolescent mental health. Her project, "Social support as a moderator in the intersection between adolescent depression and technology use," will analyze a large data set focused on technology use and adolescent mental health and well-being.
"The field of social media and adolescent mental health is very fascinating to me as a former psychology major," stated Vilela. "I hope to work with pediatric populations in the future and I am excited to contribute to a project that will benefit children and adolescents."
In addition to helping these students develop their research questions and gain experience in writing, editing, and presenting their work, Moreno hopes the summer research program offers additional takeaways. "By providing exposure to key topics in adolescent health, I hope they will have a renewed interest and appreciation in the providing of clinical care for adolescent patients," explained Moreno. "And finally, I hope they enjoy the time spent working on a collaborative, interdisciplinary research team."
About the Shapiro Research Program
The Shapiro Research Program is a cornerstone program at the School of Medicine and Public Health (SMPH). Approximately 100 SMPH medical students participate for eight- to 10-weeks of research between their first and second year, mentored by faculty members in the school's departments, centers, and institutes. Research projects span a broad range of scientific investigation, including basic science, clinical, translational, health services, global health, public health, quality improvement and medical ethics.