"It's wonderful to see a student's sense of accomplishment as they successfully work through a project from start to finish," explained Michelle Kelly, MD, associate professor, Hospital Medicine.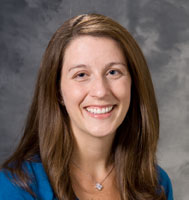 Kelly, who has been a Shapiro mentor for two years, researches innovative tools and technology that will engage patients and families in care and improve care quality and patient safety. She hopes that the students she mentors recognize the importance of the patient and family voice in the work they do every day.
This summer, Kelly will be mentoring Carley Sprackling. Their project, "Stakeholder perspectives on sharing physicians' notes with adolescents," will analyze qualitative data from focus groups to identify benefits, challenges, and implementation strategies of allowing adolescents access to their doctors' notes.
Kelly and Sprackling's working relationship precede the Shapiro program. Sprackling was a research coordinator within the Department of Pediatrics before entering medical school. She specifically reached out to Kelly to mentor her when the Shapiro opportunity arose.
"I knew this program would give me a great opportunity to receive further guidance from Dr. Kelly and to work on research I find fascinating," stated Sprackling. "The study is timely, innovative, and forward-thinking. It's exciting to be on the front lines of up-and-coming guidelines and implementation strategies, which will hopefully enhance patient care."
About the Shapiro Research Program
The Shapiro Research Program is a cornerstone program at the School of Medicine and Public Health (SMPH). Approximately 100 SMPH medical students participate for eight- to 10-weeks of research between their first and second year, mentored by faculty members in the school's departments, centers, and institutes. Research projects span a broad range of scientific investigation, including basic science, clinical, translational, health services, global health, public health, quality improvement and medical ethics.