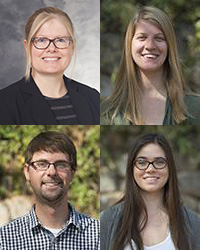 The Department of Pediatrics is happy to welcome Megan Moreno, MD, MSEd, MPH, and her research team back to Madison.
After five years in Seattle at the University of Washington Department of Pediatrics, Dr. Moreno rejoins us as an associate professor, academic division chief of the Division of General Pediatrics and Adolescent Medicine and vice-chair for digital health.
Innovative Research on Media and Adolescent Health
Dr. Moreno is nationally known for her research on how internet use and media—especially social media—can impact the health of adolescents and young adults.
Her Social Media and Adolescent Health Research Team (SMAHRT), currently has three active grants from the National Institutes of Health, which focus on:
Using social media to identify and intervene on problem alcohol use among community-college students;
Evaluating current news coverage of bullying and cyberbullying, how it impacts youth and families and how media interventions might enhance the prevention of bullying; and
Assessing the influence of traditional and social media advertising of marijuana to youth in a state where recreational marijuana is legal.
In addition, the team manages an undergraduate internship for students interested in research; a promotion internship in which students with journalism or communications backgrounds can disseminate research findings; and a summer scholars program for teens interested in health and research.
Impact on Health and Policy
By its very nature, Dr. Moreno's research is interdisciplinary and collaborative—and her team's work doesn't end when a grant is finished or an article is published.
"We aim to educate youth and families, develop tools to prevent internet misuse and help clinicians intervene in ways that improve health," she explains.
For example, her research is the basis of "How to Make a Family Media Use Plan," a set of consumer-facing Web pages published by the American Academy of Pediatrics (AAP).
In addition, she's a member of the executive committee of the AAP's Council on Communications and Media (COCM), and authored its 2016 policy statement on media use in schoolchildren and adolescents.
Dr. Moreno is also interested in helping pediatricians use social media as a patient and policy advocacy tool. On December 14, her AAP COCM colleague Nusheen Ameenuddin, MD (bio: https://www.mayoclinic.org/biographies/ameenuddin-nusheen-m-d-m-p-h/bio-20055080; Twitter profile: https://twitter.com/namd4kids), a pediatrician at Mayo Clinic, spoke at Pediatrics Grand Rounds about being a #tweetiatrician.
"Our ultimate goal is to understand the challenges and opportunities presented by digital tools for our patients and families," Dr. Moreno reflects. "We are excited to be in an environment in which a focus on patient outcomes is at the forefront, and we are surrounded by interdisciplinary colleagues to help us continue to learn and grow."
—
Follow Dr. Moreno and the SMAHRT team on Twitter (https://twitter.com/SMAHRTeam), Facebook (https://www.facebook.com/SMAHRTeam/) and Instagram (https://www.instagram.com/smahrteam/)