Q&A with Tim Elgin, DO, MSc, visiting associate professor, Division of Neonatology and Newborn Nursery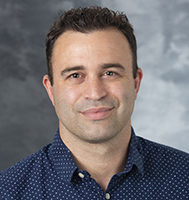 Hometown: Iowa City, Iowa
Educational/professional background: I attended medical school at Des Moines University. I completed residency at Nationwide Children's Hospital in Columbus, Ohio, and fellowship at Stead Family Children's Hospital in Iowa City, Iowa. I am currently working toward my PhD.
Previous position: Assistant professor at the University of Iowa, 2017–2022
What is your field of research or area of clinical care, and how did you get into it? My main research focus involves the use of simulation to promote communication, team building, and patient safety within the field of neonatology. I used to dislike simulation, and that is what, in part, drove me to find ways to improve the process and make it more clinically meaningful.
How would you describe your work to a 5-year-old? I take care of very small and very sick babies.
What attracted you to UW–Madison? I was very impressed with the commitment from the neonatal division to work toward maximizing outcomes for the infants in the NICU. There was a clear drive to constantly improve. There is an investment in simulation and a well-defined small baby program, which are both major areas of interest for me. Furthermore, the city is beautiful and offers so many opportunities for my family. I work with a wonderful team in the NICU.
What is your favorite thing to do in Madison? Sample the seemingly endless fantastic restaurants and spend time at the lakes.
What's one thing you hope trainees will learn from you and your work? The importance of effective communication, whether in codes, speaking with a consultant, or in day-to-day discussion. We have never been more connected worldwide, and never had more methods in which to contact one another, yet mistakes are often a result of poor communication. It is a skill that needs to be practiced and honed like procedural skills.
Do you feel your work relates to the Wisconsin Idea? If so, please describe how. Simulation and medical education fit nicely within the concept of the Wisconsin Idea. Training teams to provide effective neonatal resuscitation, whether at AFCH, at Meriter, or across the state has strong potential to benefit the babies born in Wisconsin and beyond.
What's something interesting about your area of expertise you can share that will make us sound smarter during video chats and parties? Currently in the U.S., with optimized and specialized NICU care, infants born less than 24 weeks gestation (22 and 23 weeks) can have survival as high as 78%.
What are some of your hobbies and other interests? I am a huge sports fan, particularly soccer and basketball. I also love cooking and tackling home improvement projects that do not involve electricity or plumbing.