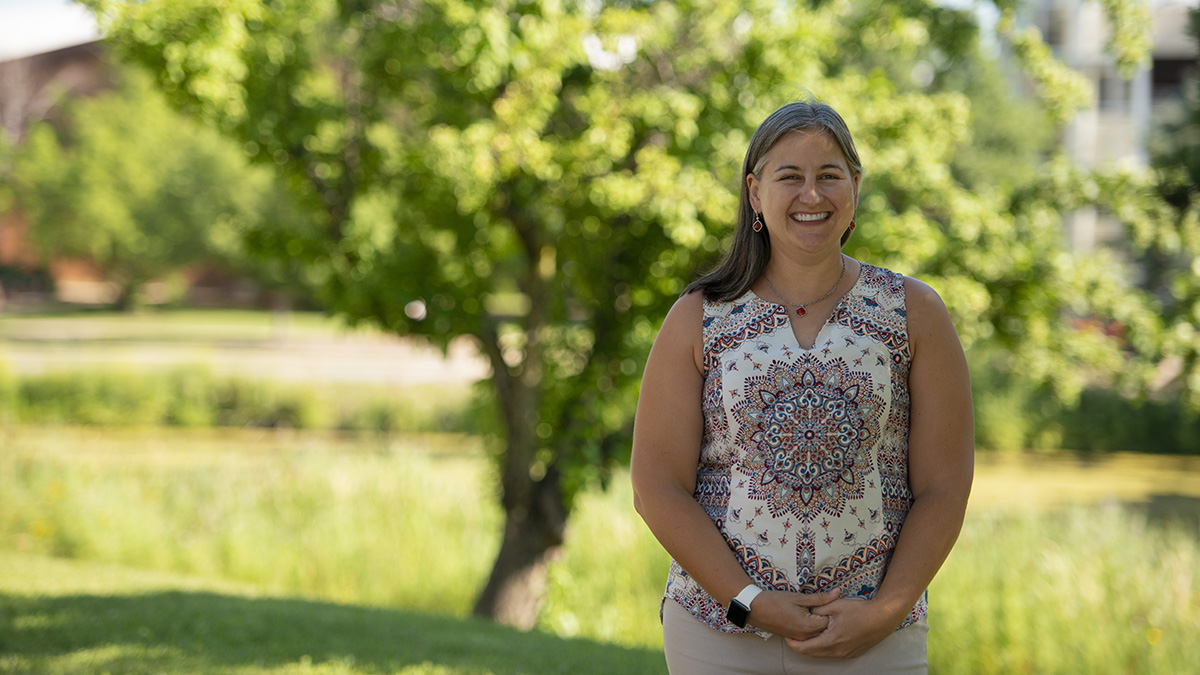 Beyond its mission to advance children's health through outstanding clinical care, exemplary education of trainees, and performance of world-class research, the University of Wisconsin Department of Pediatrics includes "vigorous advocacy" as essential to its purpose. Speaking and acting on behalf of children, who have no voice or agency in the wider world, department members connect with schools, legislative bodies, and other communities to promote children's health and safety.
The department's strong advocacy underpinnings are evident in pediatric trainees' educational requirements. The Community Pediatrics and Advocacy Experience, or CPAX, rotation is a four-week block in the first year of residency. Residents travel to outpatient agencies, learn about community partnerships and social determinants of health, and obtain the skills required for various kinds of advocacy. Finally, they develop and present an advocacy project.
Laura Houser, MD, clinical professor, General Pediatrics and Adolescent Medicine, Global Health, was the CPAX rotation director from 2016 to 2020. "Advocacy was really taking off during this time," Houser said.  Her own interest was further galvanized after meeting Jean L. Raphael, MD, MPH, from Houston's Baylor College of Medicine. An American Association of Pediatrics' visiting professorship brought Raphael to the department in September 2019 for educational sessions addressing ways to improve child health through academic partnerships with community organizations. His Grand Rounds presentation and meetings with faculty members addressed how to strengthen the department's advocacy efforts. Many department members were involved in advocacy, but there was no coordinating leader. "Dr. Raphael's talks and discussions led directly to the idea of the department creating a director of advocacy," Houser explained. When she was asked to take on that role in 2020, Houser quickly accepted.
In her first year as director of advocacy, Houser worked to highlight existing advocacy efforts within the department, such as CPAX, and served as a mentor with Mala Mathur, MD, associate professor and director of professional development, General Pediatrics and Adolescent Medicine, for the Committee for Advocacy and Resident Education, a resident-led advocacy group. She also conducted a Pediatric Education and Active Learning, or PEARL, session for residents in community advocacy. In addition, Houser connected with other UW Health and Dane County organizations concerned with child health advocacy. Her July 2021 Grand Rounds presentation, "Advocacy in Your Community," included speakers from Healthy Dane's Healthy Kids Collaborative. The department also worked with Healthy Kids Collaborative to produce Safe, Strong & Healthy Schools, a source for reliable information about COVID-19 presented by Wisconsin doctors, educators, scientists, and leaders.
Looking to future advocacy efforts in the department, Houser will work to further strengthen partnerships with UW Health and the Healthy Kids Collaborative and to create new ones. "I am working on developing more focused education about advocacy," she explained. "With the big picture always in mind, we must determine the best ways to bring about change within the smaller groups that we can influence."
Houser's educational efforts also include preparations for a new endowed lectureship associated with advocacy. The inaugural presentation of The Murray Katcher Lectureship is scheduled for April 13, 2023. Murray Katcher, MD'75, PhD, emeritus professor of pediatrics, retired from the Department of Pediatrics in 2012 after 35 years as both a clinician and a focused, tireless, prodigious advocate for the health and safety of children and vulnerable adults. The Murray Katcher Lectureship will feature speakers who address the challenges and successes of such advocacy. Katcher himself will deliver the inaugural lecture.
Beyond these many existing advocacy efforts within the department, the Advocacy Advisory Committee also offers opportunities for interested department members to get involved in more initiatives addressing child health. Because of high interest, three subcommittees have been formed: Health Policy, Education, and Community. Department members are welcome to learn more by visiting the Department of Pediatrics intranet.