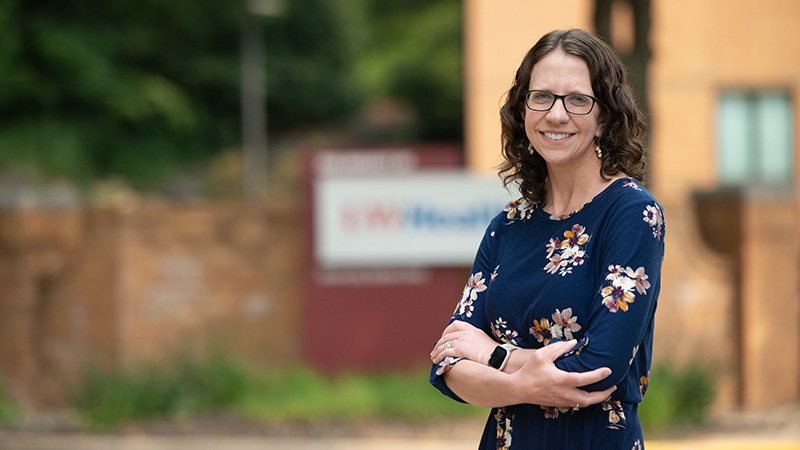 Reaching a goal she had pursued from the day she arrived at the Department of Pediatrics in May 2022, Kathryn (Kerry) Gannon-Loew, MD, MS, assistant professor, Division of General Pediatrics and Adolescent Medicine, has opened a clinic for the treatment of teens and young adults with substance use disorders. She came to her new position from an adolescent medicine fellowship at the Nationwide Children's Hospital in Columbus, Ohio, that addressed this health issue, and she saw the opportunity to continue the work here. The clinic opened for its first half-day on July 26 at UW Health's Teenage and Young Adult Clinic in Middleton. It will be open at least one half-day per week going forward.
Overdose data from the Wisconsin Department of Health Services shows that drug use and addiction is a problem in the county and the state, with 124 emergency room hospitalizations for opioid overdose patients under age 44 in 2021. An informal query into local emergency department visits of under-25-year-old patients for a primary substance use-related concern in a 33-month period showed Gannon-Loew the need for such a clinic. About three patients per month — 96 ED visits in the query period (and 19 inpatient stays) — indicated that problematic teen and young adult substance use, including alcohol, cannabis, opioids, and other drugs, requires more attention.
Working with a behavioral health nurse care coordinator and a behavioral health clinician, Gannon-Loew uses an existing model of care called Hub and Spoke in her clinic. This model, which is already established in the Department of Family Medicine, improves access to addiction services and medication for opioid use disorder (MOUD). The "hub" of treatment is UW Behavioral Health and Recovery, and the "spokes" are primary care clinics, which now include the new Teenage and Young Adult Clinic.
"By providing a clinic like this within a primary care setting and increasing access to care, patients have better outcomes," Gannon-Loew said. "The earlier we can get patients engaged in treatment when they are feeling motivated to make a change, the better." The clinic will see patients with a variety of substance use concerns, including cannabis, nicotine, and alcohol use.
"Our goal is to help connect teens and young adults with substance use disorder services," Gannon-Loew explained, "providing evidence-based care for teens and young adults with substance use concerns." The clinic is unique to the region, providing MOUD for teens and young adults, including buprenorphine. MOUD reduces cravings and withdrawal symptoms and the chances of relapse, and it enhances retention in treatment.
When appropriate, patients will be seen by the behavioral health clinician through a collaborative care model. The clinic will help patients who need additional support to connect with other resources or treatment options. UW Health's Behavioral Health Youth and Family, a collaboration between UW Health and the Dane County Department of Human Services, also offers substance use screenings, assessments, brief intervention, and referral services. Their services do not include MOUD.
While MOUD is effective for both adults and teens, the reasons teens and young adults become addicted and the behavioral treatment strategies specifically designed for them differ from adults' reasons and treatments. The brains of teens and young adults are still developing and are more vulnerable to addiction than those of adults. "Teens and young adults have not fully developed the ability to make sound judgments that would cause them to pause and consider the effects of their behaviors," Gannon-Loew said. "Risk-taking is a normal part of adolescence, but we become concerned when those risks affect health."
While the goal of quitting all harmful substances would be ideal, Gannon-Loew knows this is not realistic. "We meet the teen where they are at," she explained. "You can say, for example, 'Here are some of the risks that are associated with using cannabis every day,' if they are ready to hear it."
She asks teens to consider the reasons they are using and the negative effects of using the substance. "Maybe it's the cost," Gannon-Loew said, "or perhaps they can see the immediate negative effects on their relationships with friends or family." The overarching principle is always to meet them where they are. "I take a harm-reduction approach," she continued. "If the teen is not ready to stop using, I consider what is possible to reduce potential harm now."
Notably, teens and young adults can seek out care for substance use treatment at a public clinic without parental permission. Although Gannon-Loew prefers the inclusion of parents in treatment, sometimes that is not possible. Wisconsin law allows children 12 years and older to seek out evaluation, diagnosis, and treatment for substance use without the participation of parents or guardians, although parent or guardian permission is required to initiate medications for patients under the age of 18.