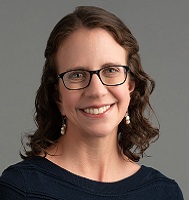 Education
BS, University of Dayton, Dayton, Ohio
MD, University of Wisconsin School of Medicine and Public Health, Madison, Wisconsin Residency, Pediatrics, University of Wisconsin, Madison, Wisconsin
Fellowship, Adolescent Medicine, Nationwide Children's Hospital, Columbus, Ohio
MS, Ohio State University, Columbus, Ohio
Professional Activities
Dr. Kerry Gannon-Loew is assistant professor (CHS) in the Division of General Pediatrics and Adolescent Medicine. She is an active member of the American Academy of Pediatrics (AAP) and Society for Adolescent Health and Medicine (SAHM).
Clinical Interests
Gannon-Loew is a pediatrician committed to addressing the health concerns of teenagers and young adults. She has expertise in eating disorders, menstrual problems, sexual and reproductive health needs, and mental health concerns. Gannon-Loew frequently works with teenagers and young adults with substance use disorders and provides medication for opioid use disorder.
Research Interests
Gannon-Loew's research seeks to improve the detection and treatment of substance use or substance use disorders in teenagers and young adults. These projects analyze the role of brief intervention, medication, and harm reduction strategies.