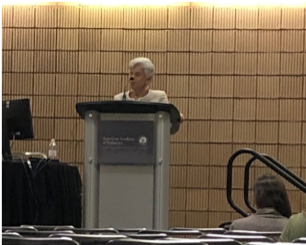 The Department of Pediatrics had several faculty and staff attend the AAP National Conference and Exhibition (NCE), held October 25-29, 2019, in New Orleans.
Ellen Wald, MD, FAAP (Professor, Division of Infectious Diseases, and Chair, Department of Pediatrics) presented her lecture, "Can You Hear Me Now? What's New in the Diagnosis and Treatment of Otitis Media." Dr. Wald reviewed the latest guidelines for the diagnosis and treatment of otitis media. She also facilitated discussion on the impact that the guidelines had on disease management and antimicrobial stewardship.
Megan Moreno, MD, MSEd, MPH (Professor and Academic Division Chief, Division of General Pediatrics and Adolescent Medicine, and Vice-Chair of Digital Health, Department of Pediatrics) received the Section on Adolescent Health (SOAH) Richard B. Heyman Award for her work in "improving the care for teenagers and educating pediatricians about the needs of adolescents and the health care they require."
The department's pediatric residents had an outstanding showing at this year's conference. Six residents, including Kristen Marten, DO, Rachel Harris, DO, Carolyn Sleeth, MD, Stephanie Syu, MD, Whitney Horsley, MD, and Nick Beam, MD, attended and presented on a variety of topics. Drs. Marten, Harris, Sleeth, and Horsley gave presentations on their research. At this year's conference, Dr. Syu was chosen as the resident delegate. She got to work alongside other pediatric trainees and learned about this year's advocacy project.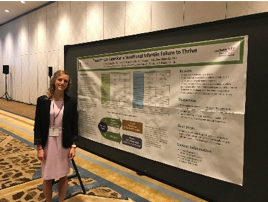 The conference, geared toward section and council members, featured discussions of clinical matters, research developments, and special interest areas. The Department of Pediatrics' faculty and staff reflected on their experiences at the 2019 AAP NCE.
"It was a phenomenal conference with the opportunity to speak with other pediatricians from across the globe and attend countless sessions with topics ranging from infectious disease to metabolic syndrome to musculoskeletal injuries! We left with our brains full of information and our bellies stuffed with delicious food!"!"

Kristen Marten, DO (Chief Resident)
"I had a great time at the AAP NCE in NOLA. Most striking was a lecture on functional abdominal pain syndromes and naming the diagnosis for families. They recommended diagnosis language like dyspepsia for predominantly perigastric pain, gut-brain axis (gut-brain interaction) disorder for generalized pain or irritable bowel syndrome for the constipation/diarrhea predominant. Giving a positive diagnosis and stopping all the work up is essential to tell the patient and family that we know what's going on and they are not a mystery. They correlated it to a software problem of the body- not a hardware- and you just need to shut it down and restart- which means functioning with the pain. It does not mean getting new parts (surgeries, endoscopies, lab testing). It was from gastroenterologist and psychologist from Boston Children's. Obviously, if there are red flags or this is brand new pain then some of the investigations need to happen, but once we make it to the functional category – naming the diagnosis is important!"

Whitney Horsley (Resident)
"I attended the Council on Community Pediatrics Executive Committee meeting and enjoyed meeting with other engaged pediatricians who are working hard in their communities to keep children and families healthy. I also learned about Healthy Communities initiatives to change the built environments of communities (housing, transportation, parks, and open spaces) to make it easier for children and families to stay healthy."

Mala Mathur, MD, MPH, FAAP (Clinical Associate Professor, Division of General Pediatrics and Adolescent Medicine)