Fellowship Director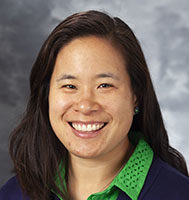 From: Atlanta GA
Undergrad: University of Georgia (Go Dawgs!)
Medical school: University of Rochester School of Medicine and Dentistry, Rochester NY
Residency: University of Wisconsin
Fellowship: University of Colorado
Research interests: medical education, quality improvement
Family: husband Nate (PhD researcher in atmospheric sciences), daughter Nora, son Henry, pandemic puppy Millie and indestructible, morbidly obese and deaf cat Scruples
Hobbies: running, cooking, baking, eating, reading
What's your favorite thing about the UW fellowship program?: I love the opportunities this fellowship program provides to be a well-rounded fellow.  There are plentiful clinical opportunities and a wealth of research options.  The program is small enough that each fellow receives personal attention and forms close relationships with all of the attendings.
What's your favorite thing about Madison? Madison is a vibrant and accessible city with tons of recreation opportunities, gorgeous lakes and so much green space.  It's a wonderful place to raise a family and the people are so welcoming and kind.
Little known/interesting facts: I have traveled to all 7 continents.  I won a national championship in college in ultimate frisbee.
Non-medical dream job: a linguist studying the intersection of culture and language
Dream travel destination: Madagascar
Favorite food: never met a carb I didn't like.
Fellowship Coordinator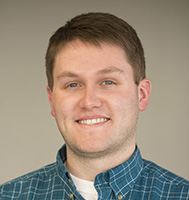 From: Pewaukee, Wisconsin
Undergraduate: University of Wisconsin
Degree: BA – History
Coordinator Since: May 2019
Also Coordinates: Neonatal-Perinatal Medicine Fellowship, Pediatric Cardiology Fellowship
Jobs After Graduating College: Asphalt plant lab technician, police report typist, medical program administrative assistant
Family/Pets: Kristi (wife), Gus (orange cat), Ollie (fat gray cat)
Hobbies: Reading, board/tabletop games, yard games, craft beer, trivia
What's your favorite thing about our fellowship program? I started this job with zero background in graduate medical education. I had a lot to learn in a very short amount of time, but I feel like I was able to do so because everyone was always willing to help me out when I needed them. I felt comfortable reaching out to people to ask my millions of questions because I knew they would be happy to lend a hand. It's stressful starting in a field where you don't have a lot of familiarity or experience, but having people like this around really helped me out a lot.
What's your favorite thing about Madison? If there is something you like to do, you can probably find it here. About 250,000 people live in Madison, and thousands more live in neighboring cities as well, so there are tons of big events, festivals, and nationally-known musical acts all the time. At the same time, there are also any number of smaller, unique interest groups that you can participate in as well. It's a really nice mix, and I think it makes Madison a really fun place to live.
An interesting fact about you that no one or very few people know? I won second place in an international blanket fort building contest in college (there were maybe 4 participants, one of whom was in Japan, so it counts).
Non-medical dream job: Professional baseball player
Dream travel destination: A resort on a Pacific island
Favorite food: Burgers (personal favorites: House Burger at The Old Fashioned, bacon mac-n-cheese burger at Mr. Brews)