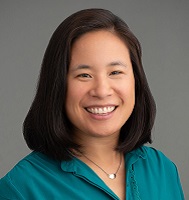 Education
BA, University of Georgia, Athens, Georgia
MD, University of Rochester School of Medicine and Dentistry, Rochester, New York
Residency, Pediatrics, University of Wisconsin–Madison, Madison, Wisconsin
Fellowship, Pediatric Hematology/Oncology, Children's Hospital Colorado, Denver, Colorado
Professional Activities
Dr. Cathy Lee-Miller is assistant professor (CHS) in the Division of Hematology, Oncology, and Bone Marrow Transplant and the program director for the Pediatric Hematology and Oncology Fellowship. She serves as house mentor at the University of Wisconsin School of Medicine and Public Health, acting as an academic advisor for one-fifth of each class of medical students. She is a member of the ACGME pediatric hematology/oncology milestones 2.0 working group and is currently serving on a Children's Oncology Group task force to help design the next standard risk B-cell ALL clinical trial.
Clinical Interests
Lee-Miller is a pediatric hematologist/oncologist with a special interest in caring for children with leukemia and lymphoma. She is also the director of the Adolescent Young Adult (AYA) oncology clinic and the physician champion for efforts to prevent central line-associate blood stream infections (CLABSIs) for UW Health Kids and  American Family Children's Hospital.
Research Interests
Lee-Miller participates in clinical research on B-cell acute lymphoblastic leukemia. She leads quality improvement projects related to CLABSI and AYA oncology care and medical education.