Since joining the University of Wisconsin's Division of Pediatric Nephrology in 2015, Neil Paloian, MD, has provided invaluable expertise and clinical care to children who have challenging conditions, including metabolic bone diseases, nephrolithiasis and loin pain hematuria.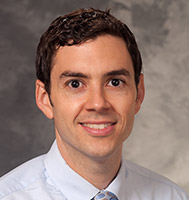 Dr. Paloian changed the landscape of how multidisciplinary care is provided to challenging and complex groups of patients, including children with metabolic bone diseases, nephrolithiasis and loin pain hematuria.  Dr. Paloian leads the University of Wisconsin Pediatric Bone and Mineral Metabolism Clinic, the upper midwest's only comprehensive referral center for children with metabolic bone diseases. The clinic, which includes pediatric nephrology, pediatric orthopedics, a geneticist, genetic counselor and a dietician, cares for children with a variety of conditions and has one of the largest cohorts of pediatric X-linked hypophosphatemia (XLH) patients.  Dr. Paloian presented data from this experience at ASN Kidney Week 2019.  
Dr. Paloian is actively enrolling children in studies of XLH as well as hypophosphatasia.  He has ongoing research projects evaluating the use of opportunistic CT scans to evaluate bone density in children, the bone density of pediatric patients undergoing renal transplantation, and changes in lab markers and images in children with XLH treated with burosumab.  Dr. Paloian is an active member of the International Society of Clinical Densitometry, serving as a member of the Scientific Advisory Council and as faculty for the Pediatric Bone Densitometry course.  
Dr. Paloian also directs the Pediatric Kidney Stone Clinic at the University of Wisconsin.  This is a robust, multi-disciplinary clinic that includes members of nephrology, urology and nutrition.  Dr. Paloian's expertise led to co-editing the first textbook focusing on the work-up and management of pediatric nephrolithiasis.  Dr. Paloian is also collaborating with pediatric urologist Dr. Jon Ellison (Medical College of Wisconsin) to assemble a comprehensive database of all the pediatric kidney stone patients seen at American Family Children's Hospital and Children's Wisconsin over the past five years, capturing the majority of children in the state with nephrolithiasis. With this database, they hope to further understand the characteristics of children with kidney stone disease. The first abstract utilizing this dataset will be presented as an oral presentation at the upcoming American Urological Association meeting in May 2020.   
Dr. Paloian also provides his pediatric nephrology expertise at the University of Wisconsin's multidisciplinary Loin Pain Hematuria Syndrome Clinic, which evaluates adolescents with Loin Pain Hematuria Syndrome or nutcracker syndrome. He is also an educator of distinction, having been honored by the pediatric residency program with the Todd Varness Outstanding Clinical Teaching Award.  Dr. Paloian is exceptionally active in the development and teaching of renal physiology courses as part of the University of Wisconsin School of Medicine and Public Health's ForWard Curriculum, which is a fully integrative and innovative approach to medical education.