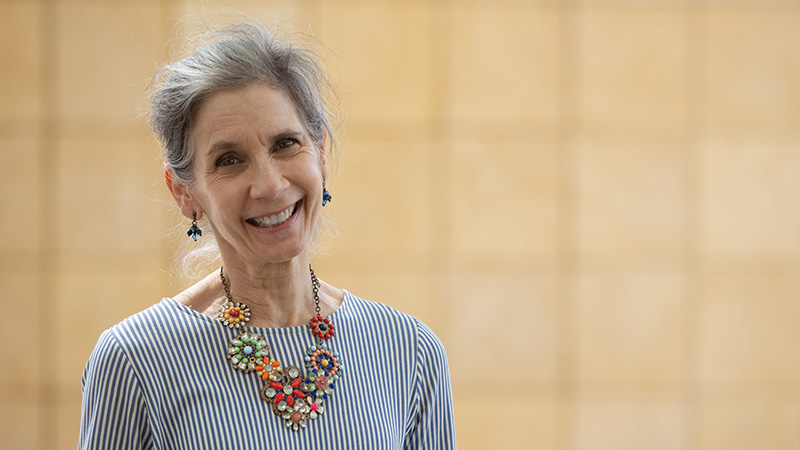 In less than two months, the UW American Family Children's Hospital (AFCH) will see the exit of the medical director of its Pediatric Neuro/Oncology Clinic, the director of the Caring for Life Clinic — a clinic for childhood cancer survivors — and the director of the Comprehensive Pediatric Neuro-cutaneous Disorders Clinic. With the retirement of just one dedicated, extraordinary physician, Diane Puccetti, MD, professor in the Division of Hematology, Oncology, and Bone Marrow Transplant, all three positions will require that new clinicians step up and serve. Puccetti has been a prodigious, effective, and compassionate presence and force in pediatric neuro-oncology care since she arrived in the department in 1992. After more than 30 years of service, Puccetti has decided to step away into her retirement.
Born in Toledo, Ohio, the eldest of four children, Diane experienced a hospitalization at the age of 12 that fortuitously exposed her to the medical profession in a very positive way. She was at an age open and ready to consider what she could make of her life — what she could be. She decided right then that she would be a doctor. Despite the typical lack of support from her high school guidance counselor — "I was a girl, it was the 1970s, and no one in my family had gone to college," Puccetti explained. "I was told, dismissively, to focus on finishing high school." — she persisted in taking the many necessary steps toward her vision. She earned an undergraduate degree in biology from the University of Toledo, then completed her MD at the Medical College of Ohio, all while living at home with her family.
Consequently, for her internship, "I looked for a spot as far away from Ohio as possible," she said, "and spent an internship year at the Department of Pediatrics of the University of California at Irvine." She returned to the Medical College of Ohio to complete her residency. Her pediatric hematology/oncology fellowship at Indiana University and the James Whitcomb Riley Hospital for Children established the focus of her specialty: central nervous system tumors. She trained with a few pioneers in the fields of pediatric oncology and neuro-oncology, including Dr. Mitchell Cairo and Dr. Jonathan Finlay, while the field of neuro-oncology was still in its early stages. "I recall one little boy had symptoms that no one could diagnose, and it turned out he had a brain tumor," Puccetti explained. "I was fascinated by neuro-oncology and the diverse and nuanced ways that neurological tumors revealed — or concealed — themselves."
Upon joining the then UW School of Medicine Department of Pediatrics faculty in 1992 as an assistant professor, Puccetti quickly recognized there was a need to develop an organized clinical care program for children with brain and spinal cord tumors. She began to develop a multidisciplinary pediatric neuro-oncology clinic at the UW that now includes specialists in neurosurgery, neuropsychology, oncology, pediatric neurology, rehabilitative medicine, and vocational counseling.
The need for more long-term approaches became evident after increasingly more pediatric patients were cured of their cancers and became long-term survivors. For more than a decade, Puccetti has served as the medical director of the Caring for Life Clinic at the American Family Children's Hospital. The clinic is dedicated to the needs of childhood cancer survivors, with a multidisciplinary staff that includes neuropsychologists, physical therapists, social workers, and a cancer genetic counselor. Puccetti's emphasis on survivorship has resulted in publications, presentations, and public health presentations. In 2016, she presented "Quality of Life and Late Effects" at the International Symposium on Pediatric Neuro-Oncology in the United Kingdom.
Puccetti has always perceived her patients with a compassionate and comprehensive — that is, holistic — eye. "Treatment can never be only the eradication of cancer," Puccetti explained, "but must also encompass the quality of the child's and the family's whole life throughout the treatment and in the years after."
She has always been supremely aware of how everything she says affects parents when their child is diagnosed with cancer. "Even after so many years in this field, when I'm about to give life-changing news to families, it's still never easy," Puccetti explained. "What I say becomes indelible to them — they remember every word, every nuance. What I say has to be accurate, hopeful, and compassionate."
In 2019, Puccetti enlarged her focus, becoming the medical director of the Neurocutaneous Disorders Clinic. Pediatric patients here are treated for disorders that affect the brain, spinal cord, organs, skin, and bones. She brought her multidisciplinary approach to patient care to this position as well. These disorders place patients at a high risk for malignancy, and Puccetti was intent upon improving their psychological functioning and social lives. She was part of the team that presented research at the 2021 Children's Tumor Foundation Neurofibromatosis Annual Meeting titled "Utility of Neuropsychological Screening in a Multidisciplinary Neurocutaneous Clinic."
Puccetti has participated in many and diverse research studies, including innovative investigations into differences in treatment and cost of care between pediatric cancer patients in NCI-designated Comprehensive Cancers Centers and those in other treatment sites. She developed a workshop on reproductive issues in cancer survivors, which was presented at the annual clinical and research meeting of the North American Society for Pediatric and Adolescent Gynecology. Revised into manuscript form, "Disparities in Female Pediatric, Adolescent and Young Adult Oncofertility: A Needs Assessment" was published in the journal Cancers in 2021.
In addition to workshops such as the one noted above, throughout her career Puccetti has been an adept and dedicated educator for all levels of learners, from medical students to fellows to colleagues. In 2013, she was honored with a Clinical Educator Excellence Award from UW Health, and she has numerous times been chosen by pediatric residents as a top faculty teacher. Her educational efforts frequently extend into the public at large, with many seminars, workshops, and presentations on childhood cancers addressed to patients, families, and clergy. Widely perceived as a source of both reliable information and hope, she has always endeavored to offer presentations where her compassion, voice, and deep knowledge can be most beneficial.
Over the 20 years from 2002 to 2021, she has been selected as one of "America's Top Doctors" by Castle Connolly Medical LTD, as well as two years as a "Top Pediatrician." Madison Magazine selected her for its list of "Best Doctors in America" for four years, to name only a few more of her honors. In 2015, she and her colleague Paul Sondel, MD, PhD, professor, Division of Hematology, Oncology, and Bone Marrow Transplant, were among 15 UW Carbone Cancer Center physicians selected by Newsweek as "Top Cancer Doctors."
Kenneth DeSantes, MD, professor and chief of the Division of Hematology, Oncology and Bone Marrow Transplant, has worked with Puccetti for many years. "Dr. Puccetti has worn many other 'hats' during her illustrious career at UW," DeSantes explained, "including serving on the Health Sciences Institutional Review Board, the General Clinical Research Center Protocol Review Committee, and the Pediatric Education Committee."
Beyond review panels, she served on other diverse committees, such as the Food and Drug Administration's grant review panel for the Office of Orphan Products Development NeurOnc Panel. Orphan products development is concerned with funding treatments for rare diseases, those with too few diagnosed patients to attract research funding from large pharmaceutical companies.
"[She] also served on the board of directors for Thursday's Child, an organization that grants wishes to children and young adults facing life-threatening illnesses," DeSantes noted. "Dr. Puccetti's contribution to our pediatric oncology program will continue to resonate for many years after her retirement."
Friends — and strangers — have asked her how she manages to stay positive in a field that is so stressful, with the possibility of young patients dying always present. "Even if the prognosis is terrible," Puccetti explained, "we promise families we will be there for them every step of the way. So many times, I've experienced the absolute best in people rising to meet fraught and dire situations."
She noted that all the clinicians she works with are close and supportive: "I have such wonderful colleagues, and I love our extraordinary nurse practitioners," Puccetti added.
Former department chair Ellen R. Wald, MD, professor, Division of Infectious Diseases, had nothing but praise for Puccetti's years of service to the department. "Dr. Puccetti is an outstanding, nationally and internationally recognized clinician in the field of neuro-oncology. She has created and led top-notch, widely respected multidisciplinary care programs in her discipline," Wald said. "Our patients and families as well as the department and its members have benefited enormously from her presence and service, and we wish her the best in her well-deserved retirement."
Puccetti expects to fill her life after clinical neuro-oncology with a few completely different activities. She will enjoy spending more time with her husband and their daughter, who will soon be a high school senior. And more: Puccetti has been and will continue taking voice lessons and has also been participating in community theater. Most recently, she appeared in the 99th Annual Twelfth Knight Dinner Theater presentation of "Only Birders In Nakoma." Diane Puccetti will continue stepping lightly toward this new vision when she retires in July.