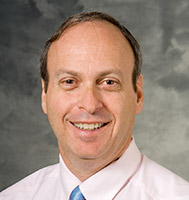 Education
BS, State University of New York, Albany, New York
MS, Immunology, University of Michigan, Ann Arbor, Michigan
MD, New York Medical College, Valhalla, New York
Residency, Pediatrics Children's Hospital of Los Angeles, Los Angeles, California
Fellowship, Pediatric Hematology and Oncology, Children's Hospital and Medical Center, Seattle, Washington
Professional Activities
Dr. Kenneth DeSantes is professor (CHS) and chief of the Division of Pediatric Hematology, Oncology and Bone Marrow Transplant. He is also principal investigator of the Children's Oncology Group and director of the iodine-123 meta-iodobenzylguanidine (MIBG) treatment program. 
Clinical Interests
DeSantes' cares for children with neuroblastoma. He is a stem cell transplant physician and treats children with a variety of malignant and non-malignant disorders who require a stem cell transplant to cure their disease. This includes pediatric patients with leukemia, lymphoma, solid tumors, various hematologic disorders and immune deficiencies.
Research Interests
DeSantes' research focuses on the development of immunotherapeutic strategies and novel therapies to treat pediatric malignancies and neuroblastoma. He is specifically interested in utilizing natural killer cells (NK cells) to fight cancer. DeSantes is developing a novel strategy to activate and expand NK cells and combine them with a tumor-specific antibody to treat children with relapsed cancer. He is also interested in utilizing molecular targeted radiotherapy to treat cancer and combining this approach with immunotherapy.