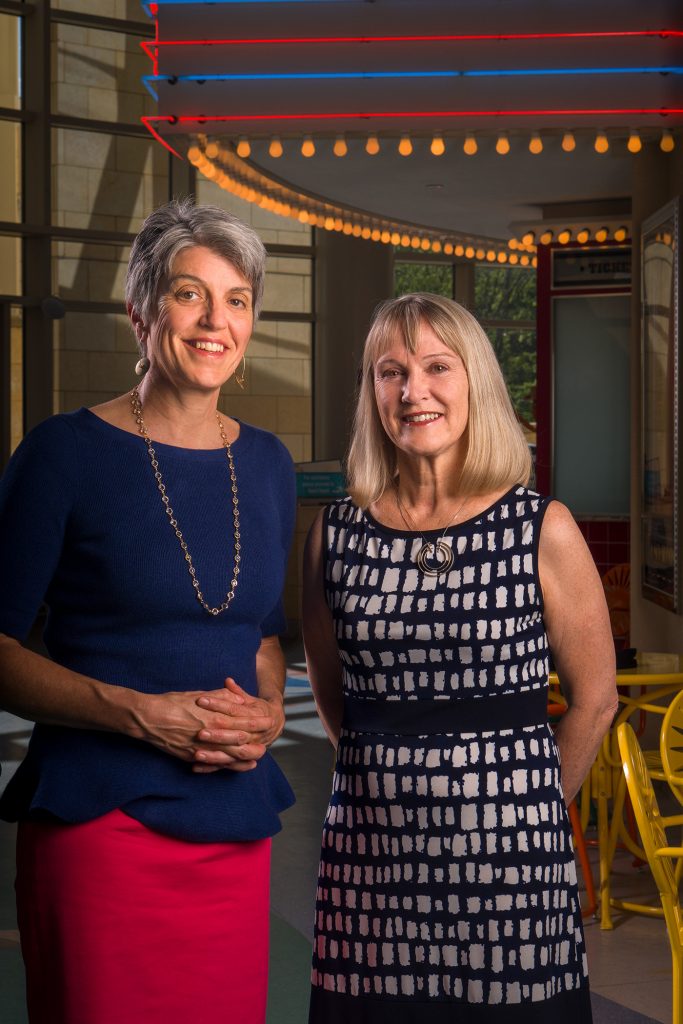 In 1991, Elizabeth Neary, MD, and Gail Allen, MD—both University of Wisconsin School of Medicine and Public Health (SMPH) alumni—took an unconventional step in their quests to balance career and family: they began a shared pediatrics residency at UW Children's Hospital (now called American Family Children's Hospital).
This was a unique, new arrangement that took considerable planning and lots of give and take to make work. But work it did.
Today, Neary and Allen each have two children (and for Neary, three grandchildren) and have cultivated successful careers as primary care pediatricians, educators, advocates and leaders.
Looking back, they realize that work-life balance is "more like a seesaw effect"—a term Neary coined many years ago.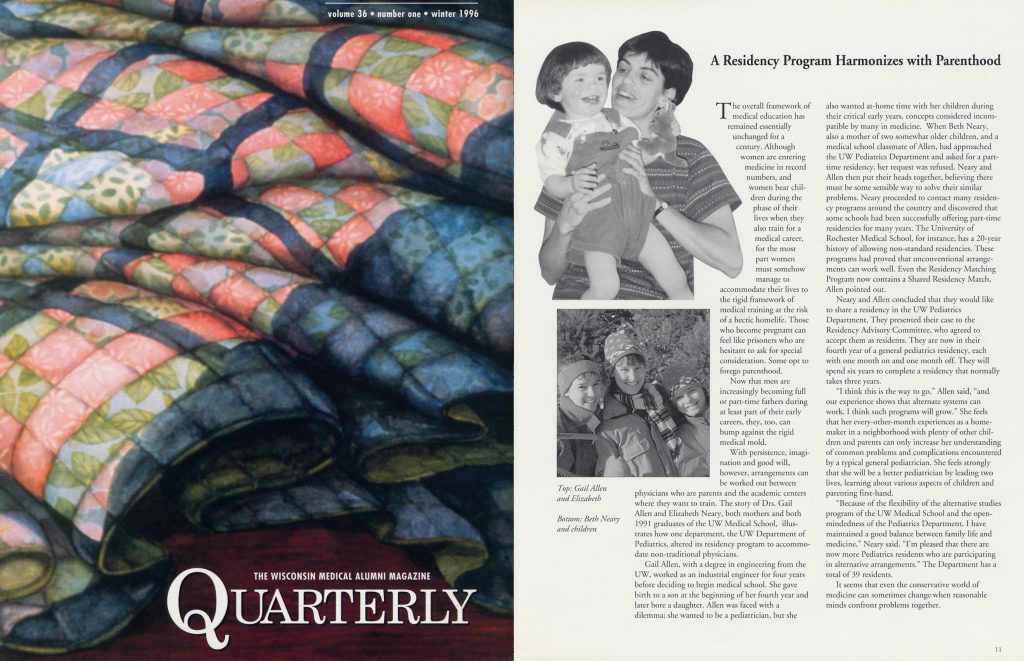 Flexing Work Schedules and Family Lives
Throughout residency, Neary and Allen followed a "month on/month off" schedule that gave them time with their children while ensuring that they covered their professional responsibilities. The split schedule doubled their residency from three years to six for each of them, but it allowed flexibility that proved crucial in both of their lives.
Neary recalls how Allen would share call when Neary's husband's job took him out of state. And when Allen needed to take medical leaves due to a complicated pregnancy and an unexpected injury, Neary stepped in. Both emphasize that their husbands' support was essential. Neary's husband, William Bula, an architect with Flad Architects, scheduled work-related travel during her "off" months whenever possible, and he was the primary caretaker for their children during her "on" months.
Allen's husband, Jeff Hoerning, PhD—who was completing his doctorate degree in mechanical engineering at the time of his wife's residency—extended his time in graduate school to accommodate family needs.
"It was critical for us to be flexible in our busy-ness," reflects Allen. "You don't just need time, you need flexibility."
Neary: Shifting Focus to Teaching and Advocacy
After completing her residency in November 1997, Neary began practicing at Associated Physicians, LLP, an independent clinic in Madison.
In addition to the relationships she cultivated with families, she found rewards in teaching medical students, nursing students and residents—often reviewing interesting cases with learners during breaks.
But over time, she began to realize that some of the health problems she saw in the clinic were symptoms of bigger issues. She developed a strong interest in public health, and in 2012, left her practice of 15 years to focus on volunteer teaching and advocacy.
Now, Neary teaches in several SMPH courses and serves as an informal mentor for SMPH students and pediatrics residents. She is on the steering committee of the Wisconsin Environmental Health Network, which hosts an annual conference at the Health Sciences Learning Center. She is the chair of education for Second Harvest Food Bank's Hunger Care Coalition, an effort to encourage physicians to screen patients for food insecurity. She also serves as a grant reviewer for the SMPH's Wisconsin Partnership Program.
In addition, in 2017 on behalf of the SMPH and UW Health, Neary twice provided expert testimony to the Wisconsin State Legislature on the health effects of lead, a topic she speaks about frequently.
"When you get older in life, you often have opportunities to help the next generation—whether it's students, your family or community members," she says. "That's what I want to do at this point, and I want to use my voice to advocate for others."
Allen: Improving Clinical Quality and Community Health
In May 1998—six months after Neary completed her residency—Allen graduated from her residency and joined the Department of Pediatrics as a clinical assistant professor, practicing at the UW Health Middleton and then West Towne Pediatric and Adolescent Medicine Clinics.
Now a clinical associate professor and vice chair of her department's Division of General Pediatrics and Adolescent Medicine, she's responsible for 37 faculty members who provide primary care for more than 55,000 children at eight UW Health clinics.
She also collaborates closely with leaders in family medicine and general internal medicine to redesign primary care delivery throughout the organization. Much of that work is focused on systems and quality improvement (QI)—a good fit for someone who earned a bachelor's degree in industrial engineering before entering medicine.
For example, Allen has been part of a UW Health QI project aimed at improving care for children with asthma. It entailed creating a registry of all UW Health general pediatric patients age 4 and above who have asthma, establishing workflows to increase the use of asthma control testing and asthma action plans, and training nurses to educate patients and families about the disease.
As a result, asthma-related emergency department visits have decreased 36 percent over the past two years in children who have medical homes with UW Health primary care pediatricians.
Allen shares Neary's passion for bettering the health of children in the community, particularly those who live in poverty. She and Neary both served as members of the Dane County Delegation to Increase Economic Stability for Young Families, an initiative convened by the United Way and led by UW-Madison Chancellor Rebecca Blank and former Madison Police Chief Noble Wray.
Allen has a strong interest in models of care coordination that identify needy families in the community and connect them with existing health and social services.
"My job is to support doctors and clinic personnel in delivering the best care they can," she says. "But what gets me out of bed in the morning is how I might use my skills and leadership role to improve the lives of the youngest, neediest children."
Forging Paths for the Next Generation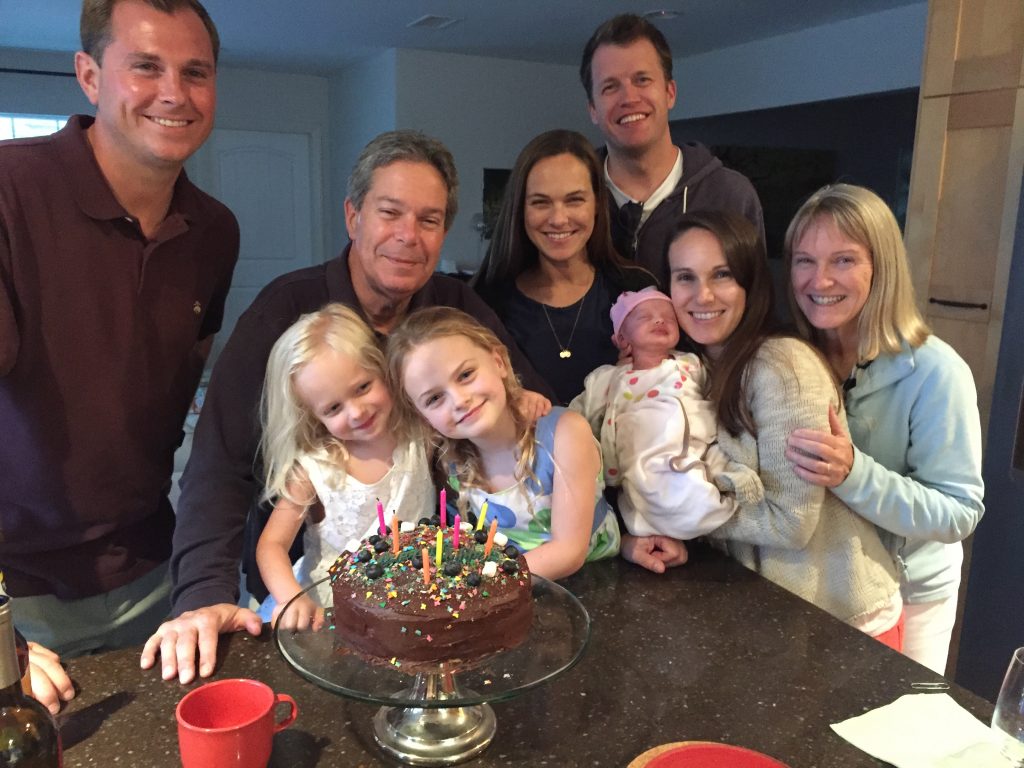 Nearly 20 years after completing residency, Neary and Allen are focusing their work on what's important to them at this stage of life. Their children, now grown, were their focus when their lives first intersected and, in many ways, follow in their footsteps. Neary's first daughter, Claire Bula, is the marketing director for an accelerator for technology and life sciences startup companies. She and her husband, Kevin Keenan, a sales executive in e-commerce, live in San Diego.
Neary's second daughter, Christine Williams, is a research associate in the Department of Pediatrics at the University of California, San Diego; she and her husband, Brian Williams, MD '09—a medical-pediatrics hospitalist at UC San Diego and Rady Children's Hospital—welcomed their third child in May.
Allen's children, Steven and Elizabeth Hoerning, both studied engineering like their parents. Steven double-majored in industrial engineering and mathematics at UW-Madison and studied predictive analytics at the Stanford Graduate School of Business, where he earned a master's degree; he plans to start his own business. Elizabeth's undergraduate degree, also from UW-Madison, is in civil and environmental engineering. In fall 2017, she'll enter the Master's in Public Health Program at the University of Illinois at Chicago School of Public Health.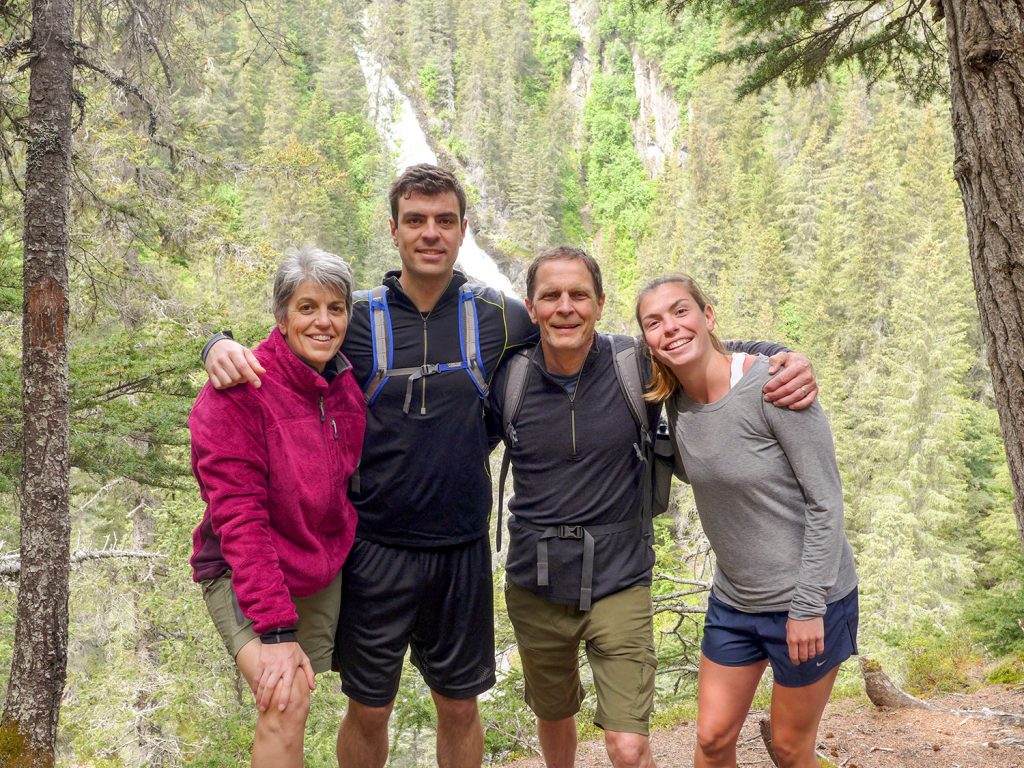 Looking back, Allen and Neary are grateful to the Department of Pediatrics and American Family Children's Hospital for supporting their nontraditional routes to career and family. They agree that although there is no true work-life balance, success is possible.
"I hope Beth and I are examples of people who have stepped off the traditional track and become leaders in our own ways," says Allen. "If you're diligent and you have good ideas, you can get where you want to go. But you might have to make your own plan."
Adapted from Quarterly magazine.