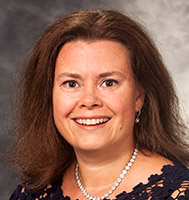 The Program for Advanced Cell Therapy (PACT), a collaboration of the University of Wisconsin School of Medicine and Public Health and UW Carbone Cancer Center, has chosen its first medical director.
Dr. Inga Hofmann, assistant professor of pediatric hematology, oncology and bone marrow transplant at the UW School of Medicine and Public Health (SMPH), will assume the medical director role at the recently completed $1 million addition to the Clinical Hematopoietic Cell Processing Laboratory at University Hospital.
"Dr. Hofmann will be an incredible asset to our team because she brings her Dana-Farber expertise in clinical science for bone marrow disorders for the benefit of children and adults in need of novel experimental cell therapies," said Dr. Jacques Galipeau, PACT director, and assistant dean of therapeutics discovery and development in the UW School of Medicine and Public Health.
Hofmann will manage the interaction between patients, SMPH, American Family Children's Hospital clinical trials office and PACT as the program works to develop manufactured hematopoietic cells, enhanced lymphocytes, mesenchymal stem cells and other cell types for clinical trials.
She will work directly with her colleagues in the pediatric and adult bone marrow transplant program at UW Health to extract or inject stem cells in patients and integrate the Food and Drug Administration-sanctioned clinical trials that PACT will execute.