The inaugural Department of Pediatrics Story Slam: Second Chances took place on Tuesday, October 18 at Mystery to Me Bookstore. Audience members, surrounded by lime-green walls and thousands of books, found their seats to listen. The event provided an opportunity for faculty, residents, staff, and students to share their stories about second chances.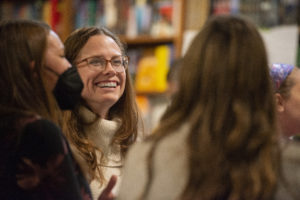 Jessica Babal, MD, assistant professor, Division of General Pediatrics and Adolescent Medicine, is the director of Listen In, a storytelling collaborative that was created to generate storytelling programming and research at the School of Medicine and Public Health. Babal was instrumental in planning the department's first story slam, and the Professional Development team hosted and ran the event.
Story Slam: Second Chances began with light hors d'oeuvres and refreshments, and as the audience began to settle in, six individuals shared their stories. The event included stories of the shiny moments as well as the panicked ones: changing perceptions, peeling back the layers of the onion, following your dreams, and the importance of living life to the fullest.
Storytellers included Samantha Tyler, DO, third-year resident, Mckenzy Suhr, medical program assistant, Division of Endocrinology and Diabetes, Kim Sue Lamster, MSW, CAPSW, social worker, Vivek Balasubramaniam, MD, associate professor, Division of Pulmonology and Sleep Medicine, Diana Do, BS, undergraduate student, and Cathy Lee-Miller, MD, assistant professor, fellowship director, Division of Hematology, Oncology, and Bone Marrow Transplant.
If you see a storyteller, thank them. It took vulnerability, courage, and hard work to share their stories.