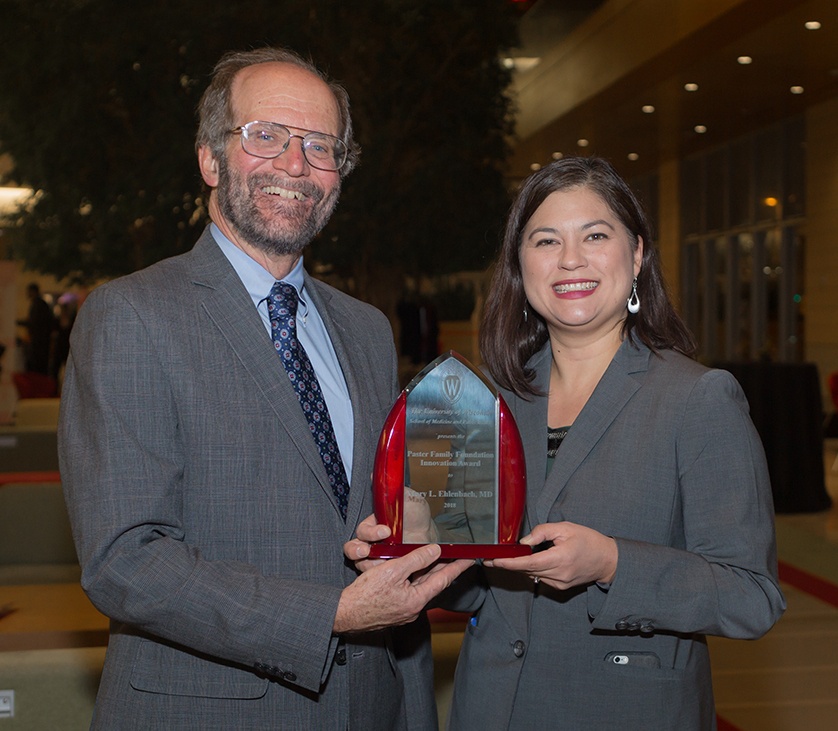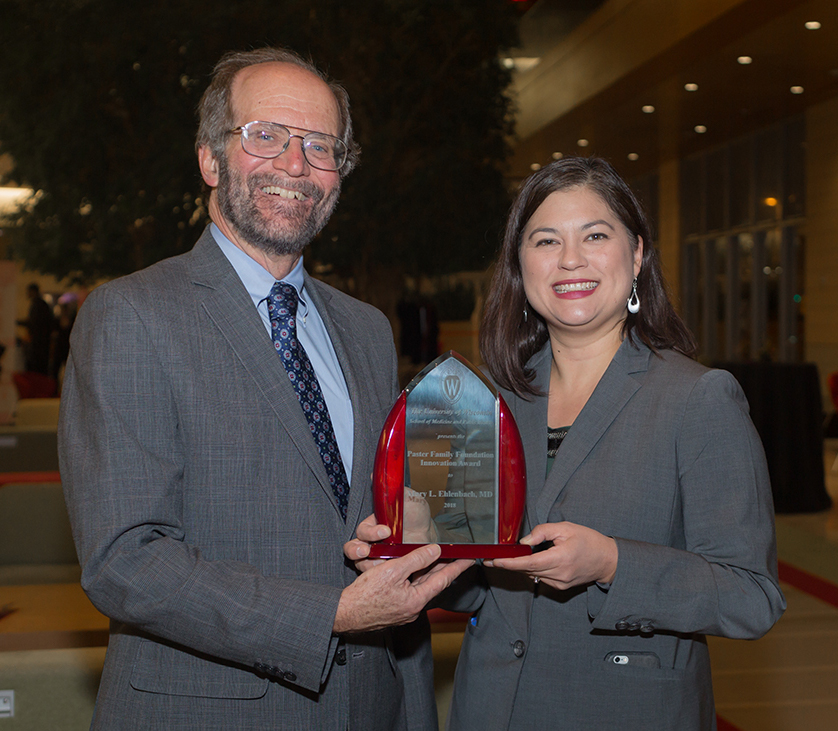 Mary Ehlenbach, MD (Assistant Professor [CHS], Division of Hospital Medicine), received the inaugural Paster Family Foundation Innovation Award for her work to design and implement the Pediatric Complex Care Program (PCCP) at American Family Children' Hospital.
The Paster award recognizes projects at the University of Wisconsin School of Medicine and Public Health (UWSMPH) that advance human health.
Dr. Ehlenbach received the award on November 9, 2018, at a dinner for the Middleton Society, the UWSMPH's philanthropic member society.
She and colleague Ryan Coller, MD, MPH (Assistant Professor and Chief, Division of Hospital Medicine), established the PCCP in 2014 to help ensure continuity of care for children with medical complexity.
Today, the program is staffed by an 18-member team of pediatricians, nurse practitioners, registered nurses, care coordination assistants, nutritionists, a pharmacist, an administrative program manager and a social worker.
They work 24/7 to provide families with medical co-management and care coordination to facilitate the best possible health and health care experience in the clinic, hospital, home or community.
'A Wonderful Service'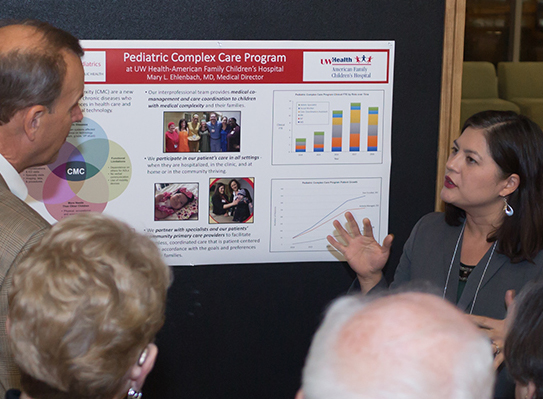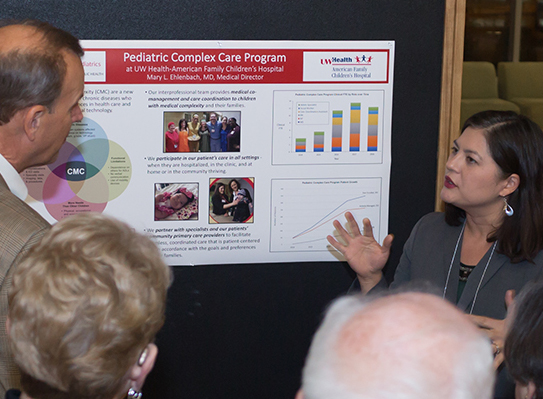 Since its founding, the PCCP has enrolled 341 children. Of those, 252 are still in the program, and 89 have graduated. Dr. Ehlenbach says about 50 more children are on the waiting list.
Survey results demonstrate the program's success. In 2018, 80 percent of surveyed primary-care providers, and 93 percent of patients and families said they were "very satisfied" with the program.
"This is such a wonderful service for complex patients," commented one primary-care provider. "They help coordinate the many meds, procedures, and visits. It has greatly improved care for patients. I and families truly appreciate the wonderful nurses in complex care!"
"This program allows my child to be healthy enough to go to school, ensures her needs are met…and that all providers connect with each other," noted a family member. "Because of this I was able to secure a better job and provide well for my family."
The Importance of Advocacy
Although children with medical complexity comprise less than 1 percent of the population of children in the U.S., they account for up to 33 percent of health care spending on children.
They and their caregivers, typically parents, are more likely to experience poverty, be insured by Medicaid, and have unmet health care needs. Their parents are at a significantly increased risk for unemployment, mental illness, divorce, and even death due to the burdens of caregiving.
"Advocacy for children with medical complexity, most of whom will never be able to speak for themselves due to their disabilities, is crucial to optimizing the health and well-being of my patients and their families, and imperative for ensuring fiscally responsible and patient-centered use of health care resources," reflects Dr. Ehlenbach.
Resident and Medical Student Electives
Dr. Ehlenbach has also created a pediatric complex care elective for Department of Pediatrics residents and UWSMPH students.
The rotation builds on traditional inpatient and outpatient clinical experiences, but also offers outreach visits to community sites that serve children with medical complexity, opportunities to shadow a patient through a multidisciplinary clinic, ethics discussions and a self-directed learning project.
Dr. Ehlenbach anticipates that six pediatrics residents and 12 medical students will complete the rotation in 2018-2019.
She and Dr. Coller also launched a new research elective for fourth-year UWSMPH students that focuses on quality-improvement interventions and systems approaches to improving care.
The Paster Family Foundation Innovation Award comes with a $5,000 prize, which Ehlenbach will re-invest back into the program through professional development opportunities for team members, wellness activities, and equipment or technology that can enhance team function.
Photos: Todd Brown, UWSMPH Media Solutions