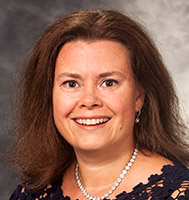 For the first time in Wisconsin, a research team will test a personalized cell therapy to treat a common and serious complication in bone-marrow transplant patients.
The UW Program for Advanced Cell Therapy (PACT) will conduct a study to examine a cutting-edge therapy to treat a viral infection faced by up to 50 percent of bone-marrow transplant recipients.
The program's first study will deploy virus-specific white blood cells to treat lethal cytomegalovirus (CMV) reactivation that can occur after a bone-marrow transplant.
The Food and Drug Administration-approved trial will begin enrolling adult and pediatric patients immediately through a partnership with UW Health, according to Inga Hofmann, MD, an assistant professor (CHS) in the Division of Hematology, Oncology and Bone Marrow Transplant, who is the PACT medical director and principal investigator on the trial.
"While some European countries might offer this type of treatment as standard care, it is considered experimental in the United States. We believe it is critically important to assess these types of cellular therapies through a clinical trial to carefully monitor safety and efficacy," she said. "It also allows us to continue to learn how we can improve such treatments and how they work."
Nearly one in three children are already infected with the CMV by age 5, according to the Centers for Disease Control and Prevention.