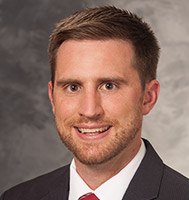 Matthew Harer, MD, assistant professor, Neonatology and Newborn Nursery, has mentored students in the Shapiro Research Program for the past three years. "I really enjoy the whole process," reflected Harer. "It's really awesome to see each student's genuine curiosity and excitement about research."
For the next several weeks, Harer will be working with SMPH medical student Kari Borowski. Their project, "Use of a cerebral to renal oxygenation ratio to improve detection of acute kidney injury in preterm neonates," will measure kidney tissue oxygenation. Borowski will help recruit, enroll, and run the prospective study at the UnityPoint Health–Meriter NICU, and she will assist with data collection and analysis of a previous cohort.
With a dual interest in neonatology and nephrology, Borowski's was instantly drawn to Harer's clinical research. "I was eager to spend the summer after my M1 year working on a research project," stated Borowski. "Dr. Harer's research project stuck out to me immediately since it aligns a few of my current interests in medicine."
In addition to providing Borowski with first-hand experience with all parts of a clinical research study, Harer hopes the experience will transcend the summer session. "Ideally these experiences will set her up to feel empowered to jump into any clinical research projects that she encounters in the future," stated Harer.
About the Shapiro Research Program
The Shapiro Research Program is a cornerstone program at SMPH. Approximately 100 SMPH medical students participate for eight- to 10-weeks of research between their first and second year, mentored by faculty members in the school's departments, centers, and institutes. Research projects span a broad range of scientific investigation, including basic science, clinical, translational, health services, global health, public health, quality improvement and medical ethics.
About the Harer Research Group
The Harer Research Group, led by Matthew Harer, MD, assistant professor of pediatrics, Division of Neonatology and Newborn Nursery, conducts translational research on kidney function in neonates who require hospitalization in the neonatal intensive care unit (NICU). Its long-term research goal is to more effectively diagnose acute kidney injury (AKI) in the NICU, allowing early interventions to prevent and treat AKI, ultimately leading to decreased rates of chronic kidney disease (CKD) in childhood and adulthood. Learn more.