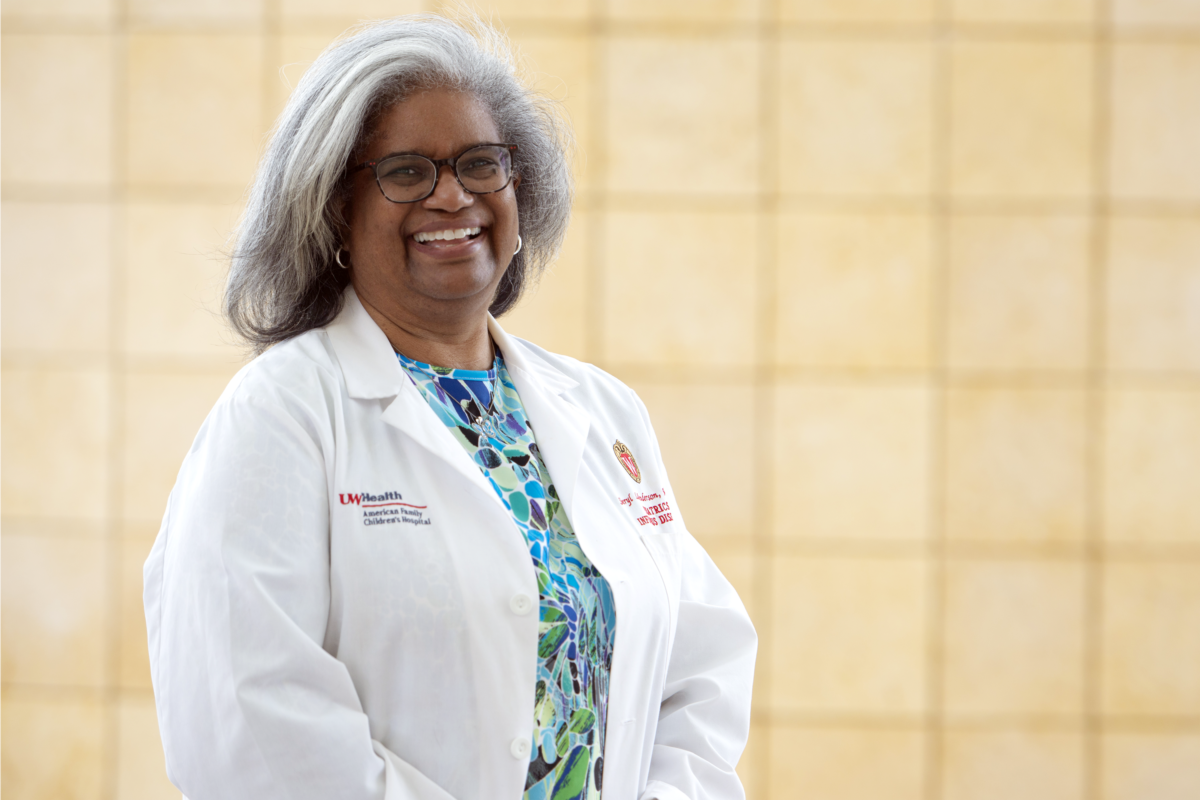 For the fourteenth year, the University of Wisconsin–Madison celebrated the Outstanding Women of Color Awards, an event that honors a select group of women whose scholarship, involvement in activism, and advocacy has promoted inclusion and benefited marginalized populations. One of the six women among this year's cohort is Sheryl L. Henderson, MD, PhD, associate professor of pediatrics in the Division of Infectious Diseases. Henderson, who is also medical director of the Pediatric, Adolescent, and Young Adult Program at UW Health's HIV Care and Prevention Clinic and medical director for the Madison area of the Wisconsin Primary HIV Support Network, has worked extensively as a mentor to underrepresented students within the University of Wisconsin's School of Medicine and Public Health (SMPH) and has helped develop departmental support for pediatric residents and fellows of color. Beyond her work within the department and the larger university, Henderson's community work during the COVID-19 pandemic has been consistently above and beyond—that is, outstanding.
In early 2020 and into the spring, cases of coronavirus multiplied across the United States. Henderson recounted that as she and her infectious diseases colleagues monitored COVID-19's swift advance, they recognized that as with HIV, underserved, marginalized, and health-compromised communities were especially vulnerable to its deadly effects: it felt like déjà vu. She summed it up: "We all said to each other, 'We've been here before.'"
Throughout much of 2020 and all of 2021, as COVID-19 deaths mounted every day, Henderson worked in many capacities: as a provider to her young HIV patients and their families, as a faculty member, and as a messenger to area communities about COVID-19. Over countless hours at church meetings, in community centers, on discussion panels, town halls, television and radio programs, podcasts, and social media, Henderson has worked to get correct information about COVID-19 and effective prevention methods out to those who most needed it. And when the first vaccines became available, she was there to answer questions about vaccination. She became a trustworthy figure offering information to a sometimes-skeptical public.
"I was not there to argue to change anyone's mind," she said. "I was there to answer people's questions, to give out the best information that I had, to listen, to hear their stories." Henderson listened to the hesitancy some people expressed about trusting medical information, acknowledged their fears, and provided assurances as best she could. As a Black woman doctor involved in recruiting people from the Black community into the AstraZeneca and Moderna vaccine clinical trials, her assurances carried some weight.
Henderson's work in medicine and community advocacy is not surprising: both her parents offered exemplary models of how one can both excel in a demanding field and be of service to those in need. Her father, Perry Henderson, MD, was a high-risk obstetrician and taught many cohorts of future OB/GYN doctors in SMPH for 22 years until he retired in 1999. Her mother, Virginia Henderson, PhD, was a psychologist and administrator within the Madison Metropolitan School District, revered and loved by colleagues and students. A few months after her death in 2019, the district honored her by changing the name of Glendale Elementary School to Dr. Virginia Henderson Elementary School.
Young Sheryl Henderson didn't start college with the goal of becoming a physician. Her love was chemistry, and she expected to make a life in bench research. Before she left Madison for Wellesley College, however, a family friend suggested that she would make a very good physician. "I hadn't considered it before, but it made sense to listen to my elders," said Henderson. After earning a bachelor of arts degree with honors in molecular biology, Henderson entered a joint MD/PhD program at Johns Hopkins University School of Medicine in Baltimore.
The eight-year program seemed ideal: she could earn her medical degree and also acquire the skills, knowledge and credential to do research. In 1990, Henderson became the first Black woman to complete Hopkins' MD/PhD program in infectious diseases, with advanced work in biochemistry, and cellular and molecular biology. She completed her residency and internship in pediatrics at Hopkins, and then a fellowship in pediatric infectious diseases at Emory University School of Medicine in Atlanta. Henderson remained at Emory as an assistant professor of pediatric infectious diseases and became a clinician known for excelling in care of her patients living with HIV, primarily young Black children and adolescents. In 2010 she left Emory to return to Madison to be closer to her aging parents. Her move allowed her to continue her work with young people living with HIV through UW Health's HIV Care and Prevention Clinic.
Although HIV is not in the news everyday as it was a few decades ago, the virus has not disappeared. Every year in the US, about 35,000 people test positive for HIV-AIDS, and it remains a global health concern. "It is still very much present," said Henderson. "Although today's treatments mean that a diagnosis is no longer a death sentence, HIV infection is still very serious. Youth living with HIV continue to face hard challenges."
Henderson teaches medical students and residents to recognize that although HIV is the primary focus of a clinic visit, patients' encounters with healthcare are just a tiny fraction of their lives. To provide the best care, the many challenges, joys, and other aspects of patients' daily lives must be considered. "There still remains a powerful stigma around HIV," said Henderson. "For youth, it can be overwhelming if it is not compassionately and practically addressed."
Involved in groups to strengthen the university's goals of diversity, equity, and inclusion, and supporting medical students as a mentor in the Building Equitable Access to Mentoring, or BEAM, program, Henderson has been a powerful, effective agent of change. She is an exemplary role model to medical students underrepresented in medicine—and to everyone fortunate enough to know her and work with her.