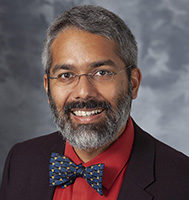 The trio responsible for the Reach Out and Read podcast was honored in February with a Silver Award in the Health category of nonprofit podcasts from the 2nd Annual Anthem Awards. The podcast's host, Dipesh Navsaria, MPH, MSLIS, MD, associate professor, Division of General Pediatrics and Adolescent Medicine, and clinical associate professor of human development and family studies at UW–Madison's School of Human Ecology (SoHE), along with series producer Jill Ruby and Reach Out and Read's national director of marketing and communications, Jen Tegan, shared the honor. The Anthem Awards was created in 2021 by The Webby Awards, the leading international awards organization that honors excellence on the internet.
Reach Out and Read (ROR) was created more than 30 years ago by two pediatricians who understood that doctors have an opportunity to encourage reading aloud in families facing the difficult challenges of poverty and limited literacy. Today it is a 501(c)3 nonprofit foundation based in Boston that helps integrate reading into pediatricians' practices through advising families about the importance of reading and sharing books as part of healthy childhood development. The Reach Out and Read podcast focuses on the belief that reading aloud with children helps with brain development, builds strong family bonds, and creates happy and healthy children and a healthier society. The podcast is an extension of the organization's work nationwide.
The podcast is in its third year with 70 published episodes thus far. "The goal of the podcast was to increase public awareness of our work and share with the wider world these incredible conversations we get to have inside the organization with partners on the benefits of reading with children," Navsaria said. "We have spoken with guests, including pediatricians, authors, and experts on everything from literacy to censorship to parenting to picture book art. The podcast has uncovered a wealth of information on building strong parent-child relationships from the earliest days, and in telling those stories, we hope we will support caregivers and children for generations."
The Reach Out and Read podcast joins other notable recipients of Anthem Awards, such as First Lady Michelle Obama, gun safety advocate Gabrielle Giffords, actor Billy Porter, and many others.