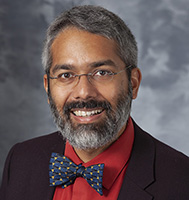 Education
BA, Boston University, Boston, Massachusetts
MPH, Boston University, Boston, Massachusetts
MSLIS, University of Illinois Urbana–Champaign, Champaign, Illinois
MD, University of Illinois College of Medicine, Chicago, Illinois
MSHS, George Washington University, Washington, District of Columbia
Residency, Pediatrics, University of Wisconsin, Madison, Wisconsin
Professional Activities
Dr. Dipesh Navsaria is professor (CHS) in the Division of General Pediatrics and Adolescent Medicine. He is founding medical director of Reach Out and Read Wisconsin and serves as board chair of the Reach Out and Read National Center. Additionally, Navsaria is current chair of the American Academy of Pediatrics (AAP) Council on Early Childhood and is past president Wisconsin Chapter of AAP. Reflective of his interdisciplinary interests, Navsaria also serves as medical director of the University of Wisconsin School of Medicine and Public Health Physician Assistant program and outreach faculty fellow for the Child Development Lab in the School of Human Ecology.  
Navsaria's professional activities blend the roles of physician, children's librarian, educator, public health professional, and child health advocate. He values the opportunity to take research and expert opinion on child-and-family-facing topics and interpret, apply, and advocate for a better world for children and their families. Navsaria aims to educate the next generation of those who work with children and families in realizing how their professional roles include being involved in larger concepts of social policy and how they may affect the cognitive and socioemotional development of children for their future benefit.
Clinical Interests
Navsaria is a general pediatrician with clinical expertise in preventative and urgent care. He is passionate about integrating literacy promotion into pediatric primary care. 
Research Interests
Navsaria's research reflects his interdisciplinary interests. Recent projects explore child advocacy strategies, causes and consequences of poverty and social discrimination in the United States, and child development.