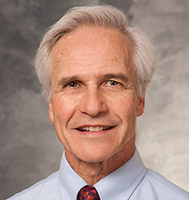 Paul Sondel, MD, PhD, Professor, was a recent recipient of the University's 2007 Hilldale Award, one of four faculty recognized for excellence in teaching, research and service.
The award honors professors in biological sciences, physical sciences, social studies and arts and humanities.
The award recognized Dr. Sondel's research focusing on the hypothesis that the immune system can have a beneficial impact on treating cancer. His most recent studies involve the preclinical and clinical development of a humanized antibody that recognizes a tumor antigen that's linked to human recombinant IL-2, a fusion protein now in clinical trials at the UW Comprehensive Cancer Center.