Q&A with Whitley Hulse, MD, assistant professor, Division of Neonatology and Newborn Nursery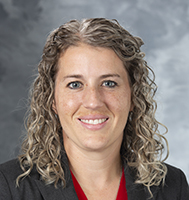 Hometown: Lawrence, Kansas
Educational/professional background:
Undergraduate: Kansas State University
Medical school: University of Kansas
Pediatric Residency: University of Colorado
Neonatal-Perinatal Fellowship: University of Utah
Previous position (title, institution): Fellow, University of Utah
How would you describe your work to a 5-year-old? I am a doctor for newborn babies who are born early or cannot go home right away. I help them grow and learn how to be a baby.
What is your field of research or area of clinical care, and how did you get into it? I am investigating interventions within the neonatal intensive care unit that can positively impact brain growth and future neurodevelopmental outcomes, specifically looking at interventions around growth, nutrition, and body composition.
What attracted you to UW–Madison? The environment of the University of Wisconsin is supportive and inclusive. People connected me with mentors, provided resources and support infrastructure, and continually demonstrated their dedication to the cultivation of a successful academic research career. In addition, Madison provides everything my family needs, including extensive outdoor activities throughout all four season, family friendly activities, and cultural events.
What is your favorite thing to do in Madison? All of the outdoor activities: hiking, biking, kayaking, boating, in addition to the plethora of family friendly activities.
What's one thing you hope trainees will learn from you and your work? How to improve growth and nutrition of infants, even those who are severely ill, and to understand that developmental interventions are as impactful as medical interventions.
What's something interesting about your area of expertise you can share that will make us sound smarter during video chats and parties? Sand from the Sahara Desert provides phosphorus that aides in the plant growth of the Amazon Rainforest.
What are some of your hobbies and other interests? My son, Hudson, my dog, Konza, travel, and reading mystery novels.