Q&A with Patrick Peebles, MD, assistant professor, Division of Neonatology and Newborn Nursery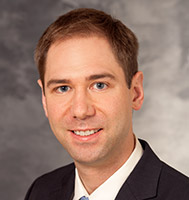 Hometown: Fond du Lac, Wisconsin
Educational/professional background: I earned my BS from UW–Madison and my MD from the University of Wisconsin School of Medicine and Public Health. I completed my pediatrics residency at the University of California, San Francisco, where I also served as chief resident. Most recently, I earned a clinical research certificate from the University of Pennsylvania and completed the Neonatal-Perinatal Medicine Fellowship at Children's Hospital of Philadelphia.
Previous position (title, institution): Fellow, Neonatal Perinatal Medicine, Children's Hospital of Philadelphia.
What is your field of research or area of clinical care, and how did you get into it? I took a job as a NICU hospitalist at UCSF after my chief residency. I really enjoyed that year taking care of babies and it led me to direct my career toward neonatology.
How would you describe your work to a 5-year-old? I take care of babies who need to stay in the hospital after they are born. Many of these babies are born early or have problems breathing after birth.
What attracted you to UW–Madison? I went to college and medical school at UW–Madison, and I think it's a great academic institution.
What is your favorite thing to do in Madison? Take a bicycle ride around Lake Monona.
What's one thing you hope trainees will learn from you and your work? Collaboration and teamwork are key to delivering high-quality care in the NICU.
Do you feel your work relates to the Wisconsin Idea? If so, please describe how. Medicine is an ever-changing field as we are continually learning more to do better and better for our patients. We collaborate with other centers around the state and beyond to share ideas and improve care.
What's something interesting about your area of expertise you can share that will make us sound smarter during video chats and parties? Caffeine is a common medicine given to extremely premature infants in the NICU. It's one of the few medicines that's been shown to reduce the risk of longer-term lung issues in these infants.
What are some of your hobbies and other interests? Bicycling, downhill skiing, and spending time outdoors.