Q&A with Casey Freymiller, MD, assistant professor, Division of General Pediatrics and Adolescent Medicine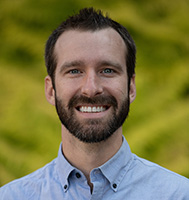 Hometown: Boscobel, Wisconsin
Educational/professional background: I earned my MD from the University of Wisconsin School of Medicine and Public Health and completed a pediatric residency and research fellowship at Children's Hospital of Richmond at VCU in Richmond, Virginia.
Previous position (title, institution): Primary care research fellow, Children's Hospital of Richmond at VCU
What is your field of research or area of clinical care, and how did you get into it? My field is General Pediatrics, and I enjoy all aspects of pediatrics and especially love teaching residents and students.
How would you describe your work to a 5-year-old? I help children feel better and be happy.
What attracted you to UW–Madison? I went to school here, so I know that hard-working and kind people live here, and I wanted to be a part of that. I also love the community of Madison.
What is your favorite thing to do in Madison? Bike!
What's one thing you hope trainees will learn from you and your work? The joy of being a partner in their patients' and families' lives.
What are some of your hobbies and other interests? I like to repair old bikes and perform upkeep on my own bicycles. I also enjoy woodworking — I made a tabletop over the summer.