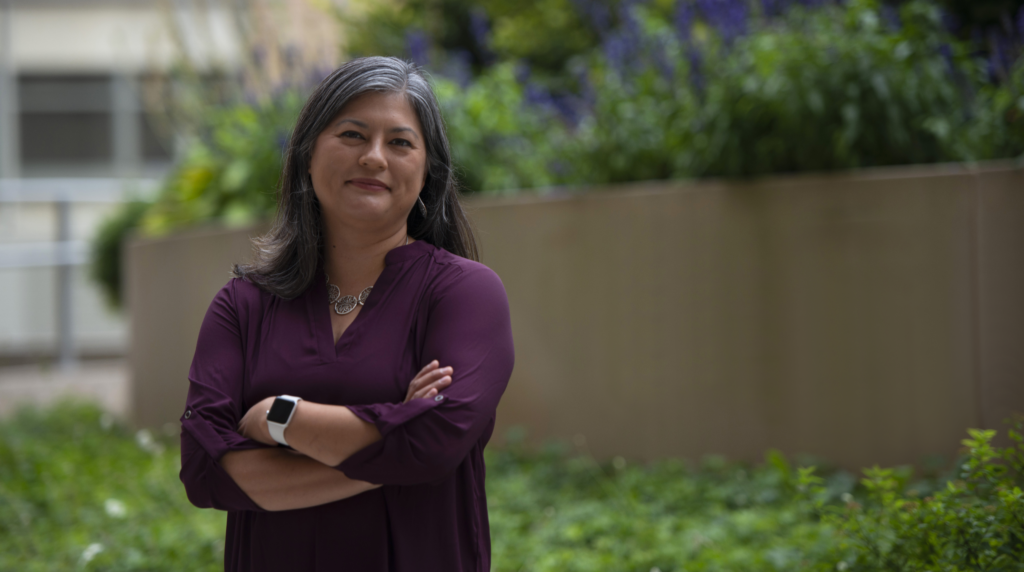 When the Department of Pediatrics embarked on its strategic planning process in the summer of 2018, faculty and staff agreed that creating a culture where people and ideas thrived was a top priority. This process led to the creation of a Diversity, Equity, and Inclusion (DEI) strategic planning workgroup that was co-led by Mary Ehlenbach, MD, associate professor, Hospital Medicine, Britt Allen, MD, associate professor, General Pediatrics and Adolescent Medicine, and Julie Johnson, formerly in Neonatology and Newborn Nursery. 
Then, amid the Covid-19 pandemic and following the murder of George Floyd in May 2020, several faculty members formed an Anti-Racism Taskforce to heighten the department's focus on anti-racism in action. The group, which was led by Sarah Webber, MD, assistant professor, Hospital Medicine, and co-led by Allen and Cristina Delgadillo, MD, clinical assistant professor, General Pediatrics and Adolescent Medicine, also identified a point of advocacy: the need for a dedicated director position to lead DEI and anti-racism efforts.  
The position appealed to Ehlenbach. "As a female person of color, I have lived experience with racial and gender microaggressions, and in my clinical work I see the harm that comes from racism and bias against people with disabilities," stated Ehlenbach. "I feel called to make our department an inclusive and equitable place to work and to educate myself and others on the toxic role racism, sexism, and other forms of bias play in our society." 
In her new role as Director of DEI for the Department of Pediatrics, Ehlenbach will translate this vision into reality. Her position is one of the five department-level director roles which focus on cross-divisional priorities: advocacy, DEI, professional development, quality improvement, and well-being. The directors report to Megan Moreno, MD, MSEd, MPH, professor and vice chair of Academic Affairs, and meet monthly to co-develop strategies, scope of work, and stakeholder planning.
"I'm thrilled to be part of supporting the department of pediatrics directors," stated Moreno. "Their priority areas extend across divisions and impact all faculty, trainees, and staff."
Ehlenbach's initial work will have a large focus on program development and sustainability. This includes partnering and coordinating with leaders at the School of Medicine and Public Health and UW Health to assess, plan, and implement DEI-related programs and efforts in the department. She will also collaborate with Human Resources and departmental leaders to promote recruitment and retention of diverse staff, trainees, and faculty. Furthermore, she will partner with DEI education experts in the department and larger health system to facilitate individual, small group, and department-wide training in areas that promote a culture of DEI, non-discrimination, and anti-racism. 
"Prioritizing diversity, equity, and inclusion are of paramount importance in advancing child health and the field of pediatrics," stated Moreno. "As our first director of DEI, Dr. Ehlenbach brings her experiences and expertise from her clinical work, a thoughtful and compassionate heart, and a creative, sharp mind to this role."
Ehlenbach's current and past leadership roles encompass a variety of areas. After attending medical school ('02) and pediatric residency ('05) at the University of Wisconsin–Madison, she became a pediatric hospitalist and later a hospital medicine section chief at Seattle Children's Hospital. Upon returning to UW in 2011, Ehlenbach joined the Division of Hospital Medicine as an assistant professor. In 2014, Ehlenbach led the development of the Pediatric Complex Care Program at AFCH and was site principal investigator for a Health Care Innovation Award funded by the Center for Medicare and Medicaid Services. She continues to serve as medical director of the Pediatric Complex Care Program. Ehlenbach is also a member of the steering committee for the UW chapter of the AAMC Group on Women in Medicine and Science, and she was recently elected to a two-year term on the UWHC Medical Board.
As Ehlenbach develops the inclusive framework for embedding anti-racist and anti-bias activities throughout the Department of Pediatrics, there are many opportunities for department members to get involved and advance the work and its stewardship. The Anti-Racism Taskforce is open to any faculty, staff, and trainee with an interest in engaging in DEI efforts. Additionally, the BIPOC affinity group welcomes faculty, staff, and trainees who identify as BIPOC to join in future activities. Department members can learn more about and sign up for these groups, view a selection of DEI resources, and read more about Ehlenbach's DEI goals by visiting the Department of Pediatrics intranet.