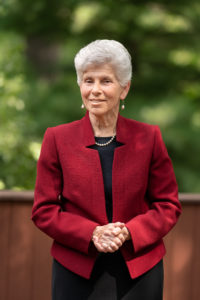 Now in her sixteenth year as a professor and chair of the Department of Pediatrics and the Alfred Dorrance Daniels Professor on Diseases of Children at the University of Wisconsin School of Medicine and Public Health (SMPH), Ellen Wald, MD, is the 2021 recipient of the prestigious Folkert Belzer Award, a lifetime achievement recognition presented annually to an SMPH faculty member. Named for the late former chair of the school's Department of Surgery, who was known for his pioneering discoveries in organ transplantation, the Belzer Award recognizes an outstanding individual who has had a pivotal impact on the school and the people and populations it serves. Wald accepted the award at the SMPH Fall Faculty and Staff virtual meeting on October 11, 2021.
"Dr. Wald has been a remarkable, game-changing department chair and institutional leader," says Robert N. Golden, MD, dean of the SMPH. "She has dramatically advanced our clinical and academic missions, driven by a profound commitment to improving the health of all children."
SMPH faculty and staff are invited to view a recording of the award presentation. An expanded profile of Wald will also be published in the next issue of Quarterly.