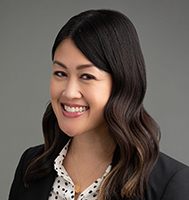 Jamie Limjoco, MD, was named the medical director for neonatology for the new Mother-Baby service line at American Family Children's Hospital (AFCH) and Meriter-UnityPoint Health.
Dr. Limjoco currently serves as Medical Director of the Level 4 Neonatal Intensive Care Unit (NICU) at AFCH. Her role will now expand to include the Level 3 NICU at Meriter Hospital.
The Mother-Baby service line was formed through a joint operating agreement between AFCH and Meriter-UnityPoint Health with the goal of improving patient care and making Madison a regional destination for mothers and babies.
Rounding out the service line leadership team are Klaus Diem, MD, vice chair of the UW Department of Obstetrics and Gynecology, who was named medical director for obstetrics/gynecology; and Kathy Kostrivas, RNC-OB, MBA, the former assistant vice president of women's services at Meriter Hospital, who was named executive director.