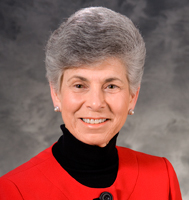 Ellen Wald, MD, has been named as the new Chair of Pediatrics at the University of Wisconsin Medical School and physician-in-chief at the UW Children's Hospital. Wald will assume her duties in January 2006, comes to Madison from Children's Hospital of Pittsburgh, where she is currently chief of Allergy, Immunology and Infectious Diseases. She is an internationally recognized expert on the diagnosis and treatment of pediatric infectious diseases. Wald has conducted research in the areas of sinusitis, otitis media, group A streptococcal infections, urinary tract infections and bacterial meningitis.
In addition to her post at Children's Hospital of Pittsburgh, Wald is professor of pediatrics and otolaryngology at the University of Pittsburgh School of Medicine, where she first became an assistant professor in 1978. She is chair of the section of infectious diseases of the American Academy of Pediatrics and a member of the sub-board of infectious diseases of the American Board of Pediatrics.
"Dr. Wald has an outstanding reputation in the field of pediatrics – as a clinician, scholar and leader," said Philip Farrell, MD, PhD, dean of the UW Medical School. "We are very pleased that she has accepted our offer to chair the Department of Pediatrics. This is an incredibly exciting time, especially with the new American Family Children's Hospital scheduled to open in 2007."
Dr. Wald earned her medical degree from SUNY Downstate Medical Center in Brooklyn, New York. She completed her residency in pediatrics at Kings County Hospital in Brooklyn and her fellowship in infectious disease at the University of Maryland Hospital in Baltimore.
In 1997, Dr. Wald received the Pediatrician of the Year award from the Pennsylvania Chapter of the American Academy of Pediatrics, and in 2001, she was honored with the Howard. Mermelstein Award for Excellence in Pediatrics. She has been recognized for her teaching ability on many occasions, including in 2001, when she received the Children's Resident Teaching Award.
Dr. Wald will succeed Christopher Green, MD, who has served as Acting Chair of Pediatrics since 2004, when former Pediatrics Chair Aaron Friedman, MD, left the UW to assume the chairmanship of Pediatrics at Brown University in Providence, Rhode Island.