The University of Wisconsin Neonatal and Perinatal Medicine Fellowship Program is a three-year subspecialty program designed to train physicians to have clinical expertise in neonatal-perinatal medicine and to also have the research skills to advance the discovery of new knowledge in the field.
Our program is fully ACGME accredited and we accept up to two fellows per academic year.
Fellows who successfully complete the program will be eligible for application to the American Board of Pediatrics certifying exam in Neonatal and Perinatal Medicine.
Clinical Experience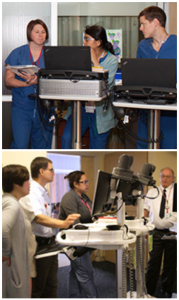 Fellows spend a total of 7 months on clinical service at UnityPoint Health Meriter Hospital's 42-bed Level III Neonatal and Intensive Care Unit (NICU). This unit accommodates sick newborns from communities within a 150-mile radius of Madison including complicated cases from other Level III centers located in the state. This unit also supports referrals from outlying hospitals via a neonatal transport service. Fellows participate in the neonatal transports as part of their training.
Fellows also spend a total of 6 months at the American Family Children's Hospital, in its 26-bed, state-of-the-art Level IV NICU, where they manage a team of advanced practice providers, caring for infants with complex surgical, neurologic, and cardiac conditions.
Additional clinical experiences include:

A rotation in our high-risk maternal-fetal medicine (MFM) clinic where fellows round with the maternal-fetal medicine team, attend prenatal diagnostic and counseling clinics, perform prenatal consults on high-risk patients, and participate in fetal echocardiograms.
A cardiology rotation, which includes performing and interpreting echocardiograms and attending procedures in our electrophysiology and catheterization suits.

Fellows take in-house call that averages to one night in six. Call frequency varies by rotation and year of training.  Each fellow will work one major winter holiday and one summer holiday per year, on a rotating basis.
Fellows participate in the neonatal follow-up program, a partnership between the Department of Pediatrics, Meriter Hospital, and Waisman Center.
Fellows interact with a complementary team of pediatric subspecialists and surgeons. They work closely with obstetricians who specialize in MFM and share courses with their fellows.
Scholarly Activity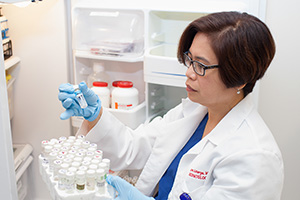 An exceptional scholarly research experience enriches a fellow's education and enhances their career development. Our goal is to provide a rich learning environment to help train future leaders in neonatology.  We promote a high-quality research education for our Neonatal-Perinatal Medicine Fellows with protected time to help fellows optimize opportunities for valuable learning, project engagement, reading, writing and reflection.  Our hope is that every fellow will gain basic and/or clinical research tools and have meaningful research experiences during their training to set them up for success if they choose to pursue an academic career in research. We help each fellow choose a project with supervision and approval of a customized faculty Scholarship Oversight Committee.  Projects may focus on a myriad of areas, including bench research, quality improvement, community and global health research, and clinical epidemiological research.  Mentors with the Division of Neonatology and the Department of Pediatrics encourage and support fellows on their chosen research pathway. 
Examples of some current clinical research projects include studies on the development and implementation of point of care ultrasound, acute kidney injury in preterm infants, and studies related to neurodevelopment. Ongoing projects in epidemiology use an extensive regional and statewide perinatal database to include all phases of perinatal health care, including neonatal follow-up. The Department of Medical History and Bioethics provides fellows with an opportunity to explore clinical medical ethics as an area of focus.
Affiliated Research Programs
Education Components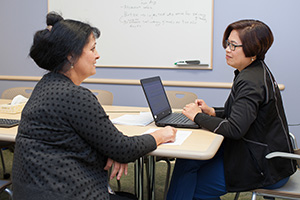 Fellows have a Scholarship Oversight Committee that provides mentorship and support in completing scholarly activities.
The program provides fellows with education on the requirements for conducting clinical and basic science research, including statistical analysis, grant applications, and presentation skills.
Fellows participate in a didactic curriculum that provides a broad overview of neonatal-perinatal medicine and present regularly at all division conferences and journal clubs.
Fellows have access to a state-of-the-art Neonatal Simulation Center that uses the Laerdal SimNewB® computerized manikin. The center serves as both a learning laboratory and an avenue for neonatal education research.
Fellows have the opportunity to participate in global health projects and research in the Department of Pediatrics.