Laboratory Genetics & Genomics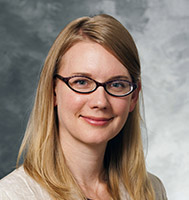 The ACGME-accredited laboratory genetics and genomics fellowship prepares individuals with a doctoral degree (PhD, MD or DO) to function as a LGG laboratory director. At the end of this two year fellowship, fellows may complete the American Board of Medical Genetics' General Genetics and LGG examinations.
This program is offered in collaboration with the UW Cytogenetic Service and Molecular Genetics Laboratory at the Wisconsin State Laboratory of Hygiene; the UW Department of Pediatrics, UW Health, and PreventionGenetics, Inc. in Marshfield, Wisconsin. This unique relationship with our partner labs provides fellows with a broad range of clinical genetic testing experience, using state-of-the-art methods and in a variety of environments.
Our rigorous, comprehensive curriculum offers:
Diverse clinical laboratory experiences that foster inter-professional relationships across campus and affiliate sites with faculty and staff;
Relevant research opportunities that encourage critical thinking, connecting and solving complex challenges in genetic research while contributing to the knowledge base of the profession; and
An environment that promotes socially responsible practice in serving the public and medical profession assuring standards of excellence in genetics.
Clinical Laboratory Experience
Master clinical cytogenetics and molecular techniques, recognize and interpret molecular/cytogenetic aberrations, and initiate complementary or confirmatory studies as indicated;
Master appropriate processing of all human tissues for cytogenetic and molecular genetic analysis and recognize the requirement for safe handling of tissue, and tissue culture specimens;
Interpret and communicate test results in clear, understandable language for referring physicians, healthcare providers and patients;
Collaborate productively with clinical colleagues; and
Be acquainted with quality assurance procedures, laboratory management and fiscal issues of directing a laboratory within the climate of managed care.
Research Experience
Fellows will learn—in the context of the entire training program—how to seek extramural funding for and to initiate independent and/or collaborative research. Opportunities for collaborative research are available in a variety of genetic subspecialties and are required for completion of training.
Education Experience
Fellows will learn how to become capable instructors for teaching and training at all levels. Trainees will attend and present at weekly/monthly clinical and laboratory conferences, journal clubs and case reviews. Fellows will interact with clinical geneticists, genetic counselors and other staff who refer patients for cytogenetics and molecular testing. Multiple opportunities to discuss cases regarding pertinent clinical features, laboratory findings and counseling issues continue during the 24 months.