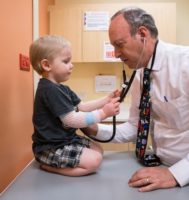 The first year of fellowship emphasizes a strong foundation in clinical pediatric hematology and oncology (both outpatient and inpatient). You'll develop expertise in diagnosing and treating disease, essential procedures, and palliative/end-of-life care of ill children.
The second and third years of fellowship focus on research, with limited clinical duties. As a fellow, you have a choice of two research tracks:
The Physician-Scientist track, which provides additional research time at the bench; or
The Clinician-Educator track, which provides additional clinical activities in the second and third years to best meet fellows' career objectives.
Rotation Schedule
First Year
Clinical Activity
Inpatient service: 10 x 2-week blocks, 10 weekends and 2 holidays
Outpatient rotations: 6 x 4-week blocks
Continuity clinic: ½ day per week
Research Planning: 4 weeks
Vacation: 3 weeks
 
Second Year
Third Year
Physician-Scientist
Clinical Activity

Inpatient service: 2 weeks, 11 weekends and 2 holidays
Continuity clinic: ½ day per week

Clinical Activity

Inpatient service: 6 weeks, 11 weekends and 2 holidays
Continuity clinic: ½ day every other week

Research: ~11 months
Research: ~10 months
Vacation: 3 weeks
Vacation: 3 weeks
Clinician-Educator
Clinical Activity

Inpatient service: 4 weeks, 11 weekends and 2 holidays
Continuity clinic: ½ day per week

Clinical Activity

Inpatient service: 8 weeks, 11 weekends and 2 holidays
Continuity clinic: ½ day every other week

Research: 9 months
Research: 9 months
Vacation: 3 weeks
Vacation: 3 weeks