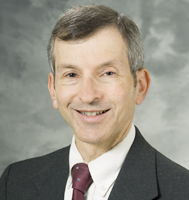 Michael Rock, MD, a professor of Pulmonology, is being honored by the Cystic Fibrosis Foundation (CFF) at its annual event in November.
According to a CFF spokesperson, the group identified Rock as someone who is making a significant impact on the foundation's fight against cystic fibrosis in the community. Rock's cystic fibrosis-related work includes collaborating with Philip Farrell, MD, PhD, on the CF newborn screening study. He also has been involved in multiple studies to investigate new medications for CF patients, and in quality improvement initiatives at UW Children's Hospital aimed at improving the health outcomes of patients with CF.
He also helped establish affiliate CF centers in Green Bay, Marshfield and La Crosse. Rock serves on the Cystic Fibrosis Foundation Data, Safety and Monitoring Board, and has served on the national Cystic Fibrosis Foundation Center Committee.