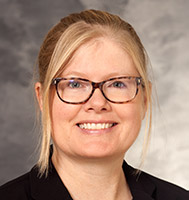 In an invited column in the September 2017 issue of AAP News, Megan Moreno, MD, MSEd, MPH, an associate professor and vice chair for digital health in the Department of Pediatrics, and the chief of the Division of General Pediatrics and Adolescent Medicine, interviewed the developer of an app designed to increase empathy in teens.
Dr. Moreno, who is a member of the AAP's Council on Communications and Media Executive Committee, began by noting that parents often ask pediatricians for apps that can help with specific issues, such as potty training or medication compliance. "As child health experts and advocates, many of us wish we also knew more about apps focused on health and prevention," she wrote.
She conducted a Q&A with Sara Konrath, PhD, an assistant professor of philanthropic students at the Indiana University Lilly Family School of Philanthropy and the director of the Interdisciplinary Program on Empathy and Altruism Research.
Konkol developed Random App of Kindness (RAKi), an evidence-based app that includes nine mini-games focused on recognizing emotions, caring for vulnerable animals and babies, controlling and managing cognitive processes, resolving conflict and other skills to promote empathy.
Konkol's team studied 106 adolescents to examine the effect of playing RAKi compared to a different app. After two months, they found that children who played RAKi were more likely to feel compassion for and help someone in distress, and had less aggressive behavior.
Read the complete Q&A at aapnews.org (AAP login required)