For new hospitalists Nicole St. Clair, MD, and Kristin Tiedt, MD, the Department of Pediatrics' Division of Hospital Medicine—and the surrounding UW School of Medicine and Public Health (SMPH) and UW-Madison community—is the perfect place for the next step in their careers.
Drs. St. Clair and Tiedt both came to our Division of Hospital Medicine in July 2017, with expertise in global health and pediatric sedation that will round out their hospitalist practices.
Dr. St. Clair: Preparing Learners for Global Health Experiences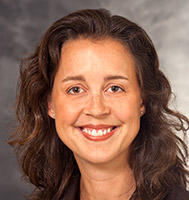 A UW-Madison and SMPH alumna, Dr. St. Clair completed residency at the Boston Combined Residency Program in Pediatrics at Children's Hospital Boston and Boston Medical Center.
While in residency, she participated in a global health elective in Lesotho, Africa—a challenging and sometimes overwhelming experience in which she was the only pediatrician in a high-acuity, low-resource area. "I saw more mortality in one short month than I did in my whole residency," she recalls.
The experience impassioned her to continue efforts to address global health disparities, but more specifically, prepare other learners to do that work, too.
In 2007, Dr. St. Clair returned to Wisconsin to join the Medical College of Wisconsin (MCW) faculty as a hospitalist. She founded the MCW Department of Pediatrics' residency global health training track, and later directed its global child health training program.
She also collaborated with Sabrina Butteris, MD, to form the Midwest Consortium for Global Child Health Educators, and was its co-chair for six years.
Through that position, and through affiliations with the American Academy of Pediatrics Section of International Child Health, the Association of Pediatric Program Directors Global Health Education Group and the American Board of Pediatrics Global Health Task Force, Dr. St. Clair worked to standardize global health curricula and develop sustainable training partnerships in Belize and Uganda.
Today, in addition to her hospitalist duties at American Family Children's Hospital (AFCH), she works with Dr. Butteris, Laura Houser, MD, and global health track affiliate faculty to manage the department's global health track. She also looks forward to deepening connections with the UW Global Health Institute and pursuing education in public and population health at the SMPH.
Finally, she brings to the department her multi-institutional research project, Project PRIME (Psychosocial Response to International Medical Electives), which studies the process of culture shock that learners may experience during a short-term global health elective.
"Learners who are interested in global health are passionate about addressing health disparities; their interest and engagement in it is humbling, and it is a privilege to work with them," she reflects.
Dr. Tiedt: Integrating Hospital Medicine and Pediatric Sedation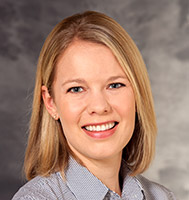 Dr. Tiedt completed undergraduate and medical degrees at the University of Iowa, and went on to complete her pediatrics residency at Indiana University (IU) School of Medicine in Indianapolis.
She then joined the faculty of IU Health/Riley Hospital for Children as a chief resident and hospitalist, an emergency department pediatrician and a member of the pediatric intensive care unit's sedation team.
Knowing she wanted to stay in academic medicine, Dr. Tiedt chose the the Division of Hospital Medicine within the Department of Pediatrics at the SMPH for its excellence in clinical care, quality improvement and patient safety. The hospitalist division is known for its strong support of academics; the faculty within the division are all supportive and encouraging of scholarly activity.
"This is a great group in which to continue my career in hospital medicine," she reflects. "I could tell they love the work they are doing."
In addition to her hospitalist duties, she provides sedation services for children undergoing potentially painful diagnostic procedures or imaging studies at AFCH.
Sedation, along with support from the AFCH Child Life program, can help make procedures more bearable for children and families alike. "It can really change the tone for how the family is able to manage their child's illness," she says.
Dr. Tiedt is also looking forward to working on projects to improve quality and safety for patients and families.
"I've always been a hands-on provider, and I like to continue to learn new ways to help patients," she says. "I'm excited to see how my interests can complement the great work already being done at UW."
Welcome, Drs. St. Clair and Tiedt. We're so glad you've joined us!