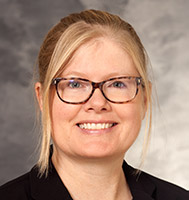 Megan Moreno, MD, MSEd, MPH, an associate professor in the Department of Pediatrics and the chief of the Division of General Pediatrics and Adolescent Medicine, recently appeared on News3 to talk about how teenagers' increased screen time may be a possible factor for increased suicide risk.
"Screens have changed bullying and I think in one way they changed is through a broader audience," she said.
Screens are teenagers' primary mode of communication—some spend over six hours a day using screens—but when communication turns into bullying, children can't escape it, even in their own home.
According to the Centers for Disease Control and Prevention, in the last 10 years suicide rates for teenage girls between the ages of 15 and 19, has doubled. For teenage boys between the ages of 15 and 19, the suicide rate has risen 30 percent.
"It is exceptionally difficult to come up with a single cause to explain something that is that complicated," said Dr. Moreno.
But she says the more screen time a child is exposed to, the more it reduces their interaction with people and that's not good for mental and physical health.
Dr. Moreno's lab, the Social Media and Adolescent Health Research Team (SMAHRT), conducts research that focuses on the intersection of social media and adolescent health.