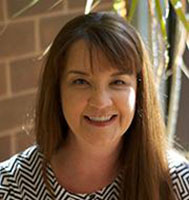 Congratulations to Elizabeth Cox, MD, PhD, for being appointed by the Patient-Centered Outcomes Research Institute (PCORI) to serve on PCORI's newly established multi-stakeholder Advisory Panel on Improving Healthcare Systems. The PCORI is an independent, non-profit organization authorized by Congress. Its mission is to fund research that will provide patients, their caregivers and clinicians with the evidence-based information needed to make better-informed health care decisions. PCORI is committed to continuously seeking input from a broad range of stakeholders to guide its work. More information is available at www.pcori.org.
The panel will identify and prioritize critical research questions for possible funding initiatives under PCORI's Improving Healthcare Systems research program and provide ongoing feedback and advice on evaluating and disseminating the research conducted under this program. The 21-member panel represents different sectors across the healthcare community, including researchers, clinicians, patients, caregivers, insurers, employers, policymakers, and industry. Dr. Cox will be participating in the advisory panel representing health services researchers.
Dr. Cox was one of 84 individuals selected to serve on four advisory panels. PCORI received applications from 1,021 individuals for panel membership. PCORI staff thoroughly reviewed each application and evaluated candidates based on their personal experience, qualifications, and ability to represent their respective stakeholder communities. She will travel to Alexandria, Va., April 19-20, for the orientation and first meeting.