It takes collaboration to care for a child with complex congenital heart disease. That's why the pediatric heart program at American Family Children's Hospital's (AFCH) brings together experts from multiple specialties, including pediatric cardiology, cardiothoracic surgery, intensive care, anesthesiology, and nursing.
Pediatric interventional cardiologist Luke Lamers, MD, is the department's newest addition to that growing program. His extensive training and experience in catheter-based interventions is a perfect complement to a multidisciplinary team that provides state-of-the-art of care for children with congenital heart problems.
Care for the Sickest Children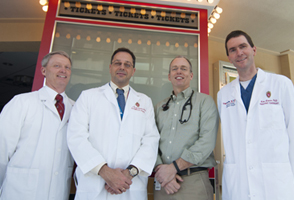 Dr. Lamers, a Wisconsin native who joined the team in July 2012, works closely with pediatric cardiothoracic surgeon Petros Anagnostopoulos, MD, who arrived one year earlier.
"Dr. Anagnostopoulos has an outstanding team in the operating room," said pediatric cardiology chief J. Carter Ralphe, MD. "Outcomes are superb and families are very happy with the service they receive."
But not all infants and children with congenital heart defects require surgery. For children with certain conditions, Dr. Lamers performs less-invasive catheter-based procedures, such as balloon valvotomy or stenting.
Other children, such as high-risk neonates with very complex heart defects, may not be able to tolerate surgery right away. Catheter-based interventions can stabilize heart function until the child is healthy enough for surgical repair.
In those situations, the team is equipped to provide the highest level of care, from the catheterization lab to the operating room to the pediatric intensive care unit (PICU)—and beyond.
"We have assembled an outstanding multidisciplinary team that provides state-of-the-art care" said Dr. Ralphe. "You need that to ensure great outcomes for our sickest children."
The Next Generation of Care
The pediatric cardiology program is also looking forward to offering innovative new treatments and facilities in the future.
For example, Dr. Lamers is a certified implantor of the Melody® Transcatheter Pulmonary Valve, a new catheter-based device used to treat narrowed or leaky pulmonary valve conduits. This device offers an alternative to—or delays the need for—open-heart surgery in children and adults with congenital pulmonary valve conduit failure.
In addition, as part of its facilities expansion, AFCH is building a low-radiation catheterization lab/operating room, scheduled for completion in November of 2013.
The hybrid suite will use cutting-edge x-ray equipment that isn't available anywhere else in the state. The new x-ray equipment will decrease radiation exposure by up to 50 percent compared to regular cardiac catheterization procedures in children—making the procedures much safer in the long term.
In the hybrid cath lab, pediatric interventionalists and surgeons will literally be able to work side-by-side on complex combined procedures.
"AFCH has a growing reputation as a place where families receive a very high level of care in a compassionate environment," commented Dr. Ralphe. "This new low-radiation hybrid catheterization lab will allow us to provide the next generation of care in the safest manner possible."