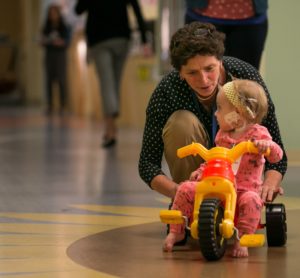 The specific goals of the UW Pediatric Hematology, Oncology & Bone Marrow Transplant program are to provide innovative excellence in the:
Delivery of state-of-the-art multi-modality, integrated care, including bone marrow transplant (BMT), aimed at total cure of all pediatric malignancies and optimal treatment of hematological disorders;
Laboratory and clinical research devoted to the investigation of recognition and destruction of cancer cells using immunologic and molecular pathways
Educating the next generation of laboratory and clinical innovators who will continue to provide leadership and excellence in this field.
To accomplish this, and to improve the outcome of children with malignancies, all members of this program participate in comprehensive, cost effective, state-of-the-art, culturally competent, multidisciplinary care for all childhood cancer and hematology patients, both during and after therapy.
A Distinctive Clinical Environment
The American Family Children's Hospital opened in 2007 and houses our 16-bed inpatient service, adjacent 22-bed PICU, and includes 4 bone marrow transplant beds and an I-131 MIBG radiotherapy suite.
The UW Carbone Cancer Center is the only Comprehensive Cancer Center designated by the National Cancer Institute in the state of Wisconsin. The University of Wisconsin Hospitals was also recently accredited as a Commission on Cancer Hospital.
We are one of 10 member centers of the Pediatric Cancer Immunotherapy Trials Network (CITN) in the US, and have research labs within the UWPHO division dedicated toward developing novel immunotherapies for cancer.
Our division treats approximately 100 new oncology patients and 150 new hematology patients per year.
The Bone Marrow Transplant service, which has grown annually, currently manages approximately 19 new transplants (malignant + nonmalignant diseases) and 3 CAR T cell infusions per year.
We were named one of 10 centers participating in a Empowering Pediatric Immunotherapies for Childhood Cancer Team (EPICC), as awarded by the St. Baldrick's Foundation.