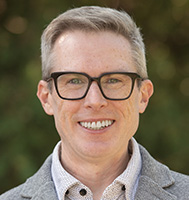 Daniel O'Connell, MD, associate professor, stepped into his new position as interim chief of the Division of Gastroenterology, Hepatology, and Nutrition on August 1. He will oversee the division's clinical and research activities, as well as its educational programs.
O'Connell joined the division in 2014, directly from a pediatric gastroenterology fellowship at the McGaw Medical Center of Northwestern University and the Ann & Robert H. Lurie Children's Hospital of Chicago. Since becoming a member of the department, he has pursued his interest in pediatric inflammatory bowel disease (IBD) both clinically and through research. In 2016, he was appointed to serve as medical director of the Pediatric Subspecialty Clinic at American Family Children's Hospital. Beyond his busy clinical practice and research efforts, he works directing operational aspects of 26 specialties with more than 180 clinicians across three UW Health sites: the clinic averages more than 45,000 visits annually.
"I love that every day I get to think about nutrition as the backbone of health," O'Connell explained. "Engaging with people as they interpret what their bodies are telling them is a fascinating challenge."
He noted that his background in psychology often comes into play dealing with pediatric patients' issues with digestion, such as working closely with the developmental state of the child and asking the right questions. "Our focus is on general health, and we often have to work to overcome the stigma associated with some digestive problems," he said.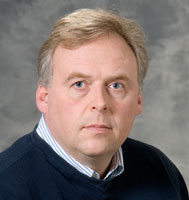 This transition of division chief was initiated by the desire of Luther Sigurdsson, MD, professor and chief of the division since 2010, to step away from the position in order to devote more attention to his clinical practice. O'Connell explained that Sigurdsson recruited him to the division in 2014, when there were only three other members. "Dr. Sigurdsson was open, honest, welcoming, and transparent," he recalled. "He gave me a lot of opportunity to explore my interests."
As the division chief, Sigurdsson more than doubled the size of the division with successful recruitment and considerable expansion of services. There are now seven clinicians, most recently a psychologist, and a full complement of nurse practitioners and dieticians. An eighth clinical position is open to candidates.
"People stay in the division because of the strong connections among us, which I will work to maintain," O'Connell said. "We are all very happy that Dr. Sigurdsson will still be here and will have more time for his patients and his family — and fewer meetings."
Sigurdsson noted that O'Connell's strengths in organization, his excellent interpersonal skills, and his solution-oriented approach to problems will serve him well as the interim division chief.
O'Connell noted that his goals as interim division chief are modest: support the faculty and the core functions of the team. "I have a deep humility about taking on this role — I am really excited to continue working with the team in this way," he said. "I've been here long enough to know what's needed to meet the growing demand for our services."