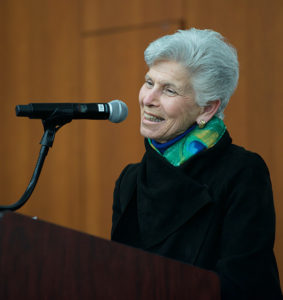 On February 2, more than 300 people convened virtually and in person at the Health Sciences Learning Center (HSLC) on the UW–Madison campus to collectively honor and thank Ellen Wald, MD, professor, Division of Infectious Diseases, for her 17 years as chair of the Department of Pediatrics. Wald stepped down from her role as department chair at the end of 2022. Surprise guests, colleagues past and present, musical guests, friends, and family joined the celebration.
The event began with a program highlighting Wald's accomplishments and vision for growth and excellence throughout the department and health system. Robert Golden, MD, dean of the University of Wisconsin School of Medicine and Public Health, welcomed the crowd and reflected on the growth the department experienced with Wald as chair. He also emphasized the importance of Wald's leadership throughout the medical school.
"Ellen is a trailblazer — when she arrived in 2006, she was the only woman in the department chair group," Golden said. "That institutional shortcoming has been addressed, and I thank Ellen for being such a visible and engaged mentor and role model for the outstanding women and men who now serve as department chairs."
View a photo gallery from the event
Sabrina Butteris, MD, vice chair of clinical affairs and professor, Division of Hospital Medicine, and chief, Division of Global Pediatrics, served as the program host and led the audience through Wald's journey to the University of Wisconsin. Butteris noted that Wald grew up in Brooklyn, New York, attended Brooklyn College, and completed most of her medical training in Brooklyn as well. Before arriving in Wisconsin, Wald spent 27 years at the University of Pittsburgh, where she worked as a professor and division chief of allergy, immunology, and infectious diseases.
The program continued with more than a dozen speakers expressing their thanks, gratitude, and admiration for Wald. Presenters focused on Wald's legacy in clinical care; education; research and scholarship; climate, community, and mentoring; and philanthropy. Speakers came from near and far, including colleagues in Wisconsin and some from as far away as Geneva, Switzerland, and Pittsburgh, Pennsylvania.
"The beauty of Dr. Wald's leadership is her balance of big-picture advocacy for children and families along with finding the time to support, nurture — and occasionally push — faculty to help them grow professionally," said Josh Ross, MD, associate professor and chief, Division of Emergency Medicine, and chief medical officer at American Family Children's Hospital.
"Ellen showed us what mentorship should be: Her success is our success," said Mariana Michaels, MD, MPH, professor of pediatrics at the University of Pittsburgh and a former resident and colleague.
Sharon Bartosh, MD, professor and chief, Division of Nephrology, offered a unique perspective on Wald's legacy:
Many of you have not had the joy and privilege that I have had of being here for all of Ellen's time at the UW. You have not had the pleasure of watching the arc of her tenure, and the nothing-less-than-remarkable evolution of this department, not just in size but in depth and richness. When Ellen arrived I was the only female professor and the only female division head. Over the course of her tenure, those in leadership within the department began to be more representative of the people being led. In our department, which is well more than half women, presently seven of the 18 division [heads] are women, and there are 19 female professors, with seven of them on the tenure track.
Video messages also played throughout the program. Audience members saw clips from past residents and former colleagues who offered thanks and congratulations on Wald's transition into the next phase of her career. Wald's five grandchildren appeared on screen and offered a different perspective on what Wald's stepping down as chair would mean. In a poem written and recited by two of her grandchildren, a stanza read:
Your colleagues will miss you
Of this we are sure
But we are selfishly happy
That we'll see you more
At the end of the program, Wald offered her own brief remarks:
In closing, I want to share my wish for our collective future — yours and mine. I wish that this department of pediatrics will continue on its wonderful trajectory and be recognized nationally for the incredibly excellent clinical care that we provide, for the outstanding education, and for the innovative and creative research that we are proud to produce. And for all members of our department, I wish good health and the achievement of personal and professional satisfaction so that they can continue to do their very best for all of our patients and families, for all of our learners, and for each other.
The program concluded with a reception in the HSLC atrium.
A giving campaign established in Dr. Wald's name has raised more than $100,000 for pediatric research within the Department of Pediatrics at the UW School of Medicine and Public Health. Wald and her husband, Dr. Arnold Wald, will match up to $250,000 raised during the campaign.