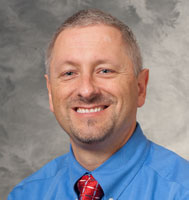 According to a new study by UW Carbone Cancer Center (UWCCC) researchers, a broadly applicable cancer therapy currently being developed by Cellectar Biosciences may have the potential to work in pediatric solid tumors.
CLR 131 (formerly known as CLR1404) delivers high doses of cell-killing radioactive iodine specifically to cancer cells. It could become the first targeted, molecular radiotherapy to be tested in clinical trials that treats a broad variety of solid tumors in children.
"Translating our findings in a pediatric clinical trial will be huge because, for the first time, we could offer molecular targeted radiotherapy for practically all pediatric solid tumors, including brain tumors," said Dr. Mario Otto, a pediatric oncologist and researcher with UWCCC and American Family Children's Hospital. "But it's also huge from a regulatory standpoint. Pediatric cancers are relatively rare, so getting cancer-specific drugs or clinical trial protocols developed is very difficult."
Many pediatric cancers have very poor overall survival rates once they relapse or if they do not respond to initial standard treatments. Radiotherapy plays an important role in the successful treatment of these cancers. However, if the cancer has metastasized to many sites, external beam radiotherapy becomes impracticable and too harmful to healthy body tissues.
For metastatic cancers, a more useful form of radiation therapy injects targeted radioactive substances to reach tumor cells throughout the body. With the exception of a neuroblastoma drug, these radioactive substances do not exist to treat pediatric cancers.
The drug CLR 131 broadly targets cancer cells due to the specific makeup of tumor cell membranes while sparing healthy tissue. CLR 131 had already been tested in models of adult cancers and found to target cancer cells with very high specificity, and is currently being tested in clinical trials in adult cancers.
The study was published in the Journal of Nuclear Medicine.