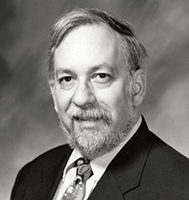 The Department of Pediatrics honors current and former members who have shown outstanding and exemplary service in their careers through named lectureships. They are designed to strengthen the abilities of physicians practicing pediatric medicine in areas such as patient care, health care research, medical education, public health, and innovation. In addition, the lectureships create a venue for recognition and celebration of excellence, and generate camaraderie and community among faculty, staff, and trainees.
To the current named lectureships — The Iams-Tuffli, The Odell, The Allen Inspiring Children, and The Gilbert-Barness — the department has added The Murray Katcher Child Health Advocacy Lectureship. This new lectureship was created to feature speakers who will address their challenges and successes in advocating for the health and safety of children and vulnerable adults. The inaugural lecture will be presented by Murray Katcher, MD, PhD, emeritus professor of pediatrics, on April 13.
Katcher joined the UW Medical School's Pediatrics Department in 1978, and he saw patients, taught, and engaged in research for the next three decades. He also served as one of four chief medical officers for the State of Wisconsin, and is most known for his focused, tireless, and prodigious work as an advocate for the health and safety of children and vulnerable adults.
Katcher's advocacy work has been legendary and transformative. One example is his decade-long effort to regulate hot water heater settings, which eventually changed the industry. His work prevented more children and elderly people from suffering third-degree burns from high-temperature water heaters. Water heater temperature regulation is now addressed nationwide, with a standard 120-degree setting.
Katcher retired from the Department of Pediatrics in 2012 after 35 years of service as a clinician and health and safety advocate. The Murray Katcher Child Health Advocacy Lectureship is intended to promote the depth of concern and engaged dedication to change that improves safety that characterized Katcher's work.
The lecture, "My Journey As a Health Advocate," will be presented in person in HSLC 1345, as well as remotely, on Thursday, April 13, 7:30 a.m. to 8:30 a.m. A reception will follow at 8:30 a.m. in HSCL 3110B. Please register for the lecture by March 31.
Donate online to the Department of Pediatrics Lectureship Fund.