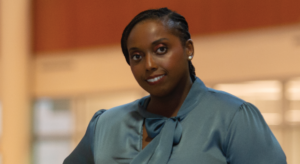 It would not be an exaggeration to say that Claudette Adegboro, MD, is on a mission: to increase survivability among extremely preterm infants through proactive care, effective education, and ongoing research. Adegboro is a neonatologist, assistant professor of pediatrics, and researcher who focuses on developmental outcomes among late preterm and extremely preterm (less than 25 weeks) infants. She was selected to deliver this year's Iams-Tuffli Lecture, and her presentation, "The Age of Viability: A New Era in the Care of Extremely Preterm Infants," will be live-streamed on May 12 from 7:30 – 8:30 a.m.
The possibility of a medical career was revealed to Adegboro at a very early age. After her younger sister suffered third-degree burns following a house fire, Adegboro's parents, émigrés from Nigeria, were amazed and humbled by the attention, compassion, and expert care the pediatricians devoted to their daughter's long and complicated recovery. The doctors' extraordinary care of her sister was not lost on 10-year-old Claudette: "I decided right then, 'that's what I want to do:' provide critical care to children and help families along the way."
After her pre-med studies at Johns Hopkins and a medical degree at Ross University, Adegboro solidified her decision to become a pediatrician. But it was during her NICU rotation at Maimonides Medical Center in New York City that she focused her attention on neonatology. "My Maimonides medical school rotation was everything," explained Adegboro. "It changed my whole world, and I knew there was no other profession that would make me this happy. I also realized that from then on, every decision I made about my training had to get me one step closer to those tiny babies." A pediatric residency at Chicago's Mount Sinai Children's Hospital and a neonatology fellowship in Madison at the American Family Children's Hospital and UnityPoint Health–Meriter Hospital led Adegboro to her present position at the Department of Pediatrics in 2019.
In her clinical work with neonates and through her research, Adegboro seeks to prevent neonatal brain injury among premature infants. She is particularly committed to improving neurodevelopmental outcomes among extremely preterm infants at the edge of viability. With tools such as neuromonitoring and advanced imaging, she aims to detect early brain injury and offer opportunities for timely intervention.
A critical aspect of her research involves the use of real-time, non-invasive methods to detect and monitor organ function before the onset of injury or dysfunction. As a fellow, Adegboro learned about near-infrared spectroscopy (NIRS) in the Harer Research Group's lab. As a researcher in this lab, she helped identify NIRS as a tool to detect early reductions in kidney tissue oxygenation leading to acute kidney injury in preterm infants. Early detection of kidney stress could be another effective tool to enhance the viability of preterm infants. The study appeared in the January 2021 issue of Pediatric Nephrology. Adegboro has since used her NIRS training and experience to create strategies for neuromonitoring with cerebral NIRS among extremely preterm infants.
For her innovative research in preterm neonatal viability and for her position as an outstanding role model for students and trainees at the University of Wisconsin–Madison's School of Medicine and Public Health (SMPH), Adegboro was named an SMPH Centennial Scholar in the spring of 2021, which included salary support for protected time over three years. In her clinical work, she focuses on bedside care for extremely premature infants less than 25 weeks' gestation. Adegboro serves as the Physician Lead for the Periviable Infant Project/Maternal Fetal Medicine Liaison at UnityPoint Health–Meriter Hospital. At present, she is leading her team in building a clinical program to identify Meriter's Birthing Center as a recognized center for excellence in the care of extremely preterm infants.
As part of the Department of Pediatrics' Professional Development offerings, the Iams-Tuffli Lecture, presented each May, is one of three named lectureships that honor past faculty while showcasing the current members who deliver them. This lecture is named for two Madison-based pediatricians and friends, Alexander Iams, MD, and Gordon Tuffli, MD. The lecture offers attendees American Board of Pediatrics (ABP) Maintenance of Certification (MOC) Part II credit. The event is free to attend, and there is still time to register.