Overview
Claudette Adegboro, MD, neonatologist and assistant professor of pediatrics, will deliver this year's virtual lecture, "The Age of Viability: A New Era in the Care of Extremely Preterm Infants." The lecture will be live-streamed from 7:30 – 8:30 a.m. and will provide ABP MOC Part II Credit.  Later that evening, a community gathering will be facilitated by SSM Health and the University of Wisconsin Department of Pediatrics. A full schedule of events is listed below. The Community Gathering is free to attend, but registration is required.
Schedule of Events
Iams-Tuffli Lecture | May 12, 2022 | 7:30 – 8:30 a.m. CST | Via Zoom
Title: The Age of Viability: A New Era in the Care of Extremely Preterm Infants.
Speaker: Claudette Adegboro, MD, neonatologist, assistant professor, University of Wisconsin Department of Pediatrics
Community Gathering | May 12, 2022 | 5:30-7:30 p.m. CST
Hosted by: SSM Health and University of Wisconsin-Madison.
Location: Lodgic Everyday Community – 1801 Marshall Court, Madison, Wisconsin 53704
Registration is required to attend the Community Gathering.
Registration for the Community Gathering has closed.
History and Accreditation
About the lecture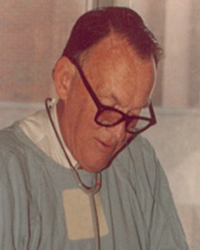 The Iams-Tuffli Lecture is an annual lecture series on the practice of pediatrics. The series is named after the late Alexander Iams, MD, and Gordon Tuffli, MD, two Madison-based pediatricians and friends who embodied the lecture series' goal of promoting camaraderie in the field of pediatrics. After Iams passed away in 1984, his family – including son and daughter-in-law Jay and Pat Iams – established a memorial fund and lecture series to honor his 35+ years in pediatrics. The annual lecture covers a diverse range of topics relevant to pediatricians in both private and academic settings. Additionally, the memorial fund generously pays for the registration fees for all participants.
Tuffli coordinated the Iams Lecture series until his retirement in 1998. Sadly, Tuffli passed away in 2020 after a courageous battle with Parkinson's disease. In 2021, the Iams family renamed the lecture "Iams-Tuffli Lectureship" to honor the legacy of Tuffli, his friendship with Iams, and his stewardship of the lecture series.
Accreditation Statement:
American Board of Pediatrics
Successful completion of this CME activity, which includes participation in the activity, with individual assessment of the participant and feedback to the participant, enables the participant to earn 1.0 MOC point in the American Board of Pediatrics' (ABP) Maintenance of Certification (MOC) program. It is the CME activity provider's responsibility to submit participant completion information to ACCME for the purpose of granting ABP MOC credit. Participant completion information will be shared with the ABP through PARS. By recording your attendance at this event, you are giving UW-ICEP permission to share this information with ABP.
Past Lecturers
2019 – David T. Bernhardt, MD; Nicholas A. Kuehnel, MD; James E. Svenson, MD "Is there a Doctor in the House?"
2018 – Eric Post, PhD, ATC "The Who, What, and Why of Sport Specialization"
2016 – Norman C. Fost, MD, MPH "Current Controversies in Newborn Screening"
2015 – Gregory Landry, MD "30 Pearls for 30 Years"
2014 – Maria A. Stanley, MD "Caring for the Child with Down Syndrome: Health Guidelines and Beyond"
2013 – Hermine Brunner, MD, MSc, MBA, FAAP, FACR "Meet the Professor: Answering Questions about Careers in Clinical Research"
2012 – David Allen, MD "All Fat in Children is Not Created Equal: Epigenetics, Ethnicity, and Ethics"
2011 – Sharon M. Bartosh, MD "Updates in Pediatric Nephrology" and Larry A Greenbaum, MD, PhD "Three Children with Electrolyte problems"
2010 – Carl Stafstrom, MD, PhD "Headaches in Children: Letting Patients Draw Their Diagnosis" and N. Paul Rosman, MD "Neurofibromatosis: The Most Protean Phakomatosis – From Von Reckinghausen (1882) to the "Elephant Man" (1886) to Madison, Wisconsin (2010)"
2009 – Frederick P. Zuspan, MD "Disparity in Preterm Birth" and De-Ann M. Pillers, MD "The Late Preterm Infant: The Newest Frontier in Neonatal Medicine"
2008 – Jeffrey A. Towbin, MD "The Genetics of Cardiomyopathy" and J. Carter Ralphe, MD "Metabolic Syndrome during Childhood: Can Pediatricians Prevent Adult Cardiovascular Disease?"
2007 – Joyce M.C. Teng, MD, PhD "Non-Vascular Birthmarks: When and What to Worry" and Gary P. Williams MD "Uncommon and Confounding Presentations of Common Dermatologic Conditions"
2006 – Dana E. Johnson, MD, PhD ""Orphanage Delays and Disabilities: Deprivation, Disease, Drink/Drugs, Diet or DNA?" and James H. Conway, MD "Infectious Issues in Intercountry Adoption: Evaluating the International Adoptee"
2005 – Diane J. Nugent, MD "Immune Thrombocytopenia: Current Concepts and Novel Therapies" and Carol A. Diamond, MD "What's New in the Diagnosis and Treatment of Hemophilia and von Willebrand Disease"
2004 – Greg Redding, MD "Bronchitis and Bronchiectasis in Children: Considerations of Productive Cough" and Marzana E. Krawiec, MD "Common Etiologies of Interstitial Lung Disease in Children"
2003 – Stephen F. Kemp, MD, PhD "Bone Age Determination: What Can A Bone Age Tell Us?" and Gordon A. Tuffli, MD "Safety and Side Effect Concerns Associated with Growth Hormone Therapy"
2002 – B. Li, MD "Cyclic Vomiting Syndrome: Light Emerging from the Black Box" and Robert H. Judd, MD "Recurrent Abdominal Pain in Children"
2000 – Dr. Jay Iams, MD "Prenatal Management at the Margins of Viability" and Julie Kessel, MD "The Role of the Fetal Immune System in Pre-Term Delivery"